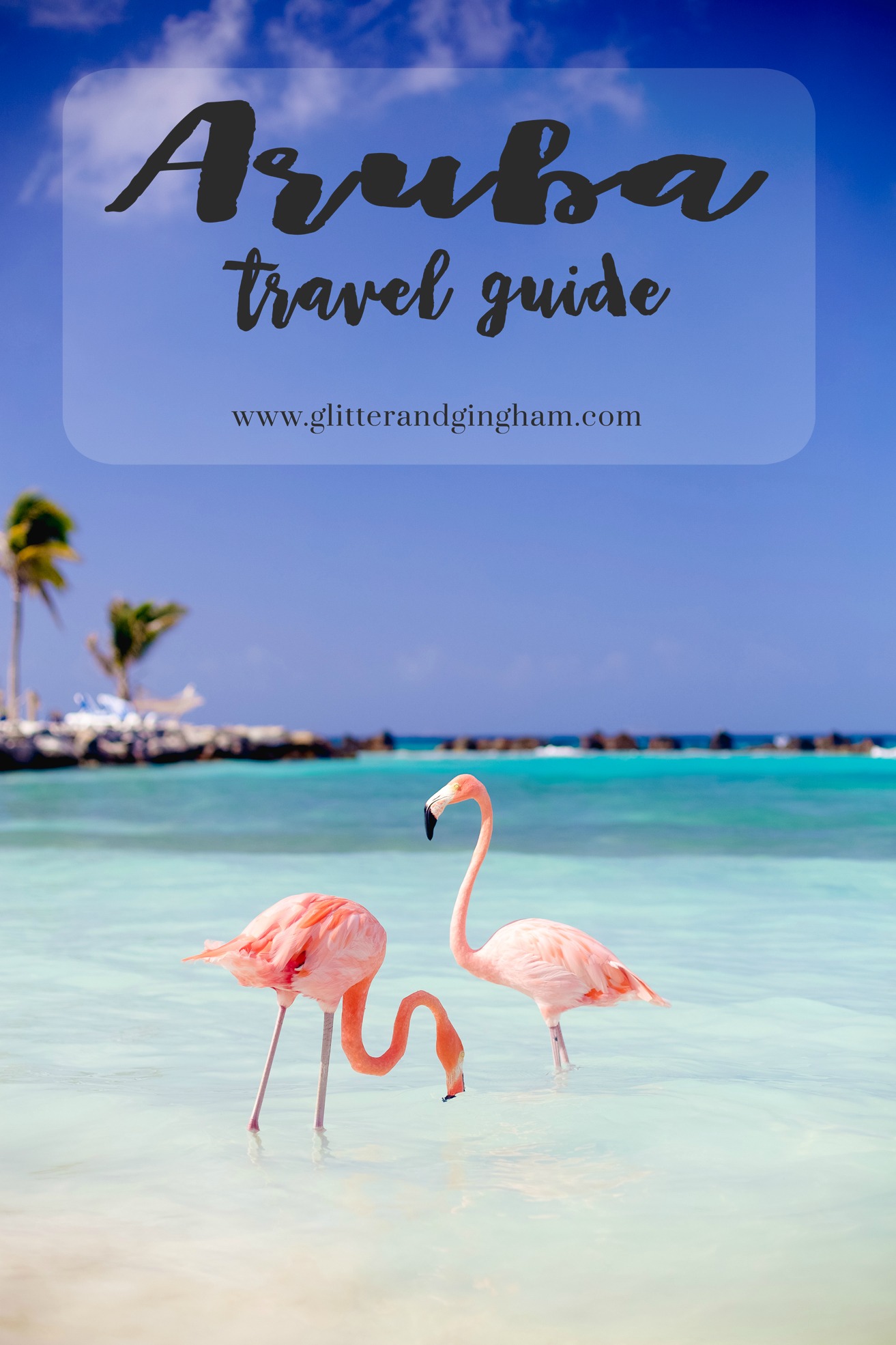 Well it's only taken about 2 months to put this post together, but I am so excited to share our honeymoon with y'all! When trying to decide on a place to honeymoon, we knew we wanted somewhere we could absolutely relax, be adventurous if we wanted and spend plenty of time in the sun & sand. Everything I have ever heard about Aruba was how amazing the island is, and I am here to vouch for that. Y'all, we LOVED Aruba, it was incredible. We really didn't know much about the island before we went, but we loved everything about it & are already planning our next trip back!
Our honeymoon was hands down one of my favorite trips I've ever taken. For obvious reasons of course, but I think the island had to do with it too! In order to make this as informative & organized as possible I am going to give a quick recap of our daily agenda, then share some random facts about the island that we learned and lastly, go into a little more detail on our resort and three of our favorite things about the trip!
If you're interested, just keep reading 😉 If y'all have any questions about Aruba that I didn't answer, please let me know!
xoxo!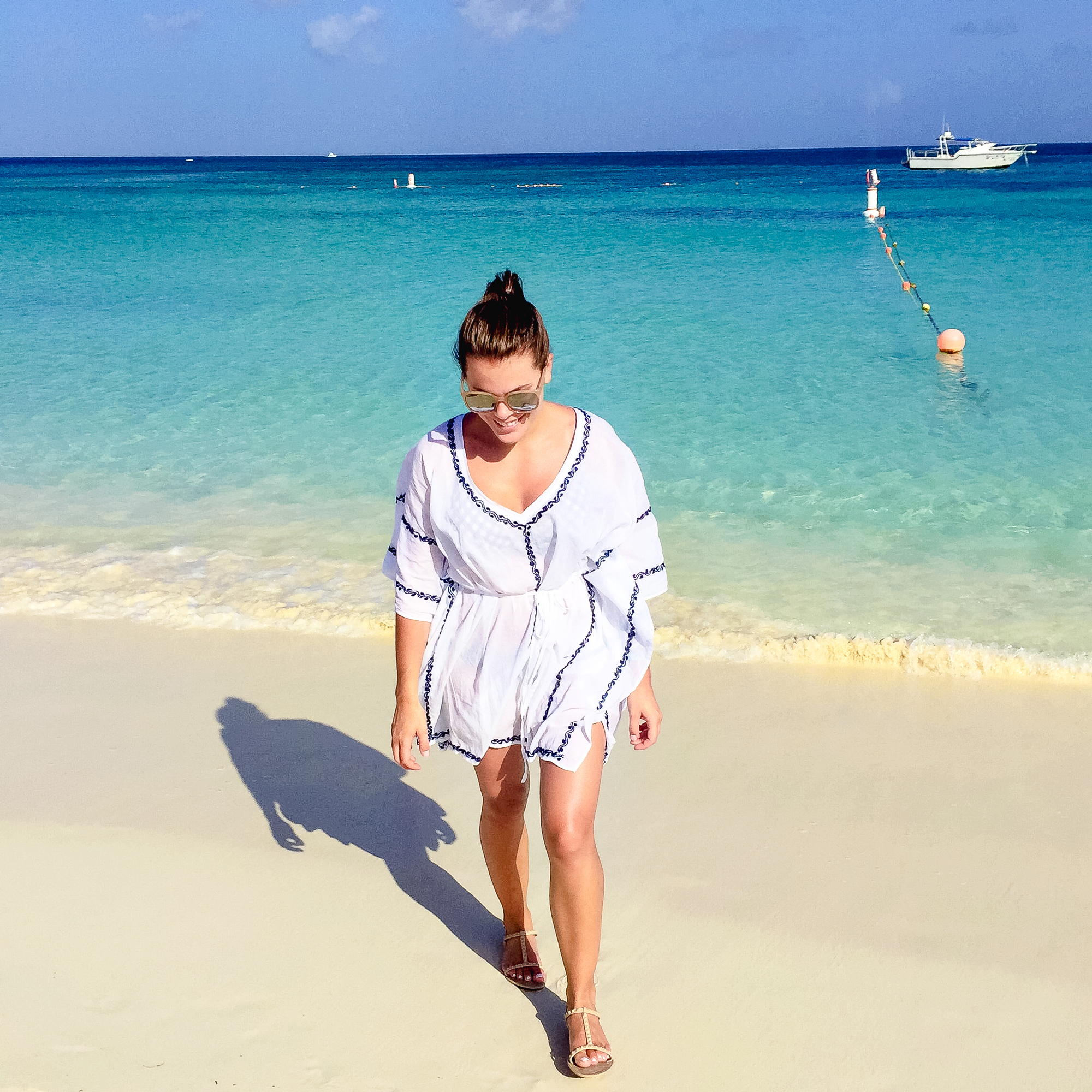 Day 1: We arrived at the resort! WooHoo! We visited the pool and had dinner at the resort, followed by a trip to the hotel casino!
Day 2: We spent the day at the pool and the beach. The beach is right beside the pool! We opted for dinner at the other Riu location. We thought the food was better there.
Day 3: Early morning snorkel excursion! We booked this excursion right on the beach. The excursion was on a catamaran, which took us to a coral reef and then to a WWII shipwreck. We really loved this trip, the guides were super nice, it had an open bar & snacks for the group. We spent the rest of the day at the pool & beach, followed by dinner at the Italian restaurant in the hotel.
Day 4: Opted for lunch at Bugaloe, located on a pier down from our hotel. It was another beach & pool day! We wanted to explore the island a little bit, so that night we walked down to Craft. It's the cutest bar by night & coffee shop by day! We visited at least 3 times over the week. Their 'Blueberry Bramble' was one of the best cocktails I've ever had! We ended our night at the Steakhouse in the hotel.
Day 5: UTV Excursion day (more on that below!!), dinner at Flying Fishbone (more on that below!!), Craft for after dinner cocktails and a trip to the Hyatt Casino.
Day 6: We had had just about too much sun for the week, so we took a long morning walk down the beach to check out the other resorts on the island. We wanted to scope out where we would stay next time we visited (more on that below!). We rented a float and enjoyed the ocean and then we tubed on the Caribbean Sea– the tube was called the BIG MABEL! It was so fun! That night it was dinner at the hibachi restaurant in our hotel, it was probably our favorite meal we had at the resort.
Day 7: Flamingo Beach time (more on that below!)! We had dinner at the resort, followed by some casino time. What can I say, we love to play blackjack 😉
Day 8: Coffee & waffles at Craft. USA here we come!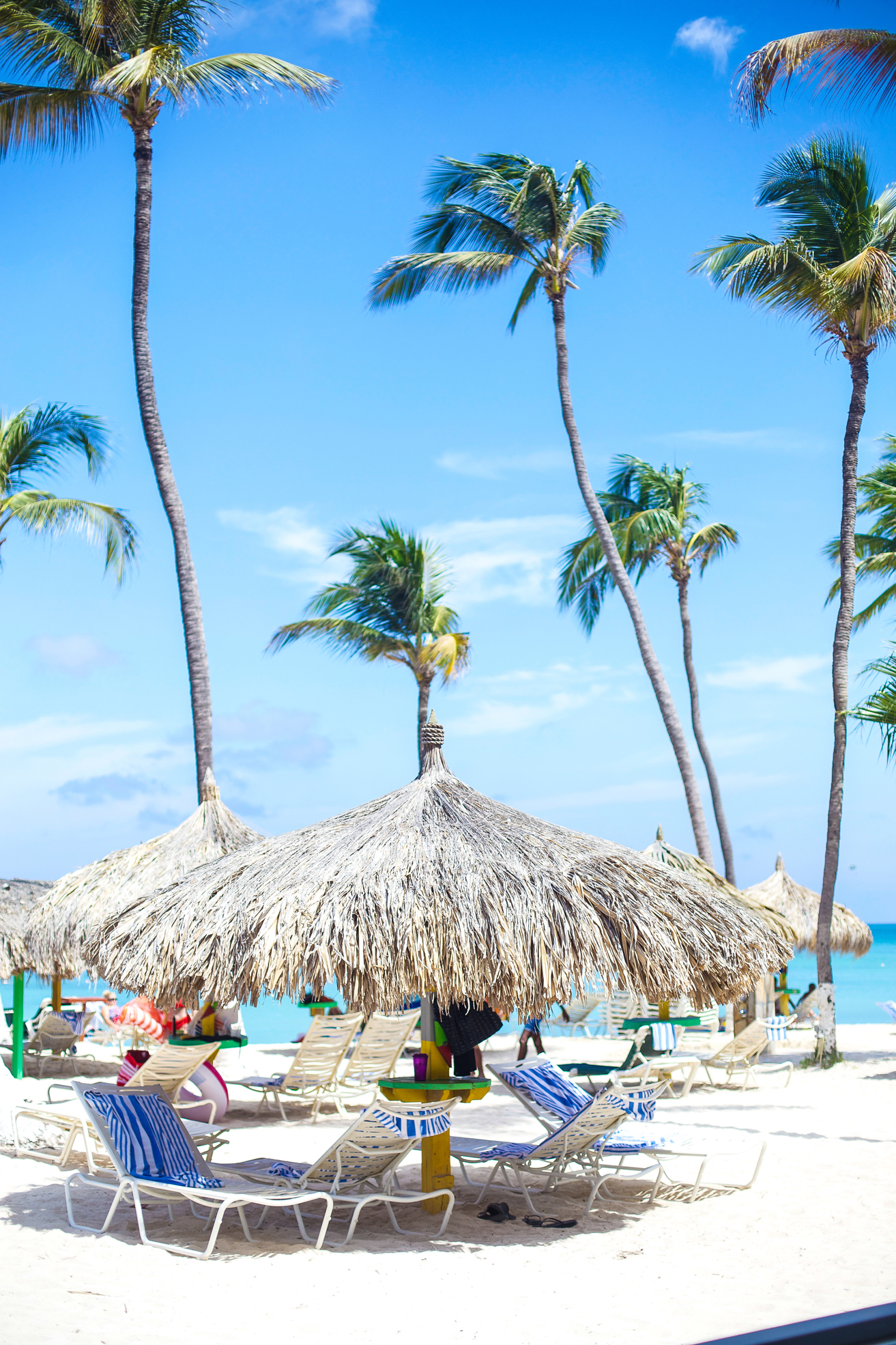 Random facts about the island:
The terrain is desert like, not tropical.
It is super windy, which makes the heat feel quite nice– but pack a hat 😉
The island is below the hurricane belt
There are 365 days of sunshine (or so they say!)
There are casinos in just about every "high-rise" hotel
We felt VERY safe, we were able to leave our resort and explore
The hotels are located on the beach of the Caribbean Sea, not the ocean, the water was calm & pristine
 They accept the U.S. Dollar
We didn't see any mosquitos during our trip. That isn't to say Zika isn't a threat, because I honestly don't know, but I am thinking the extreme wind keeps them away 😉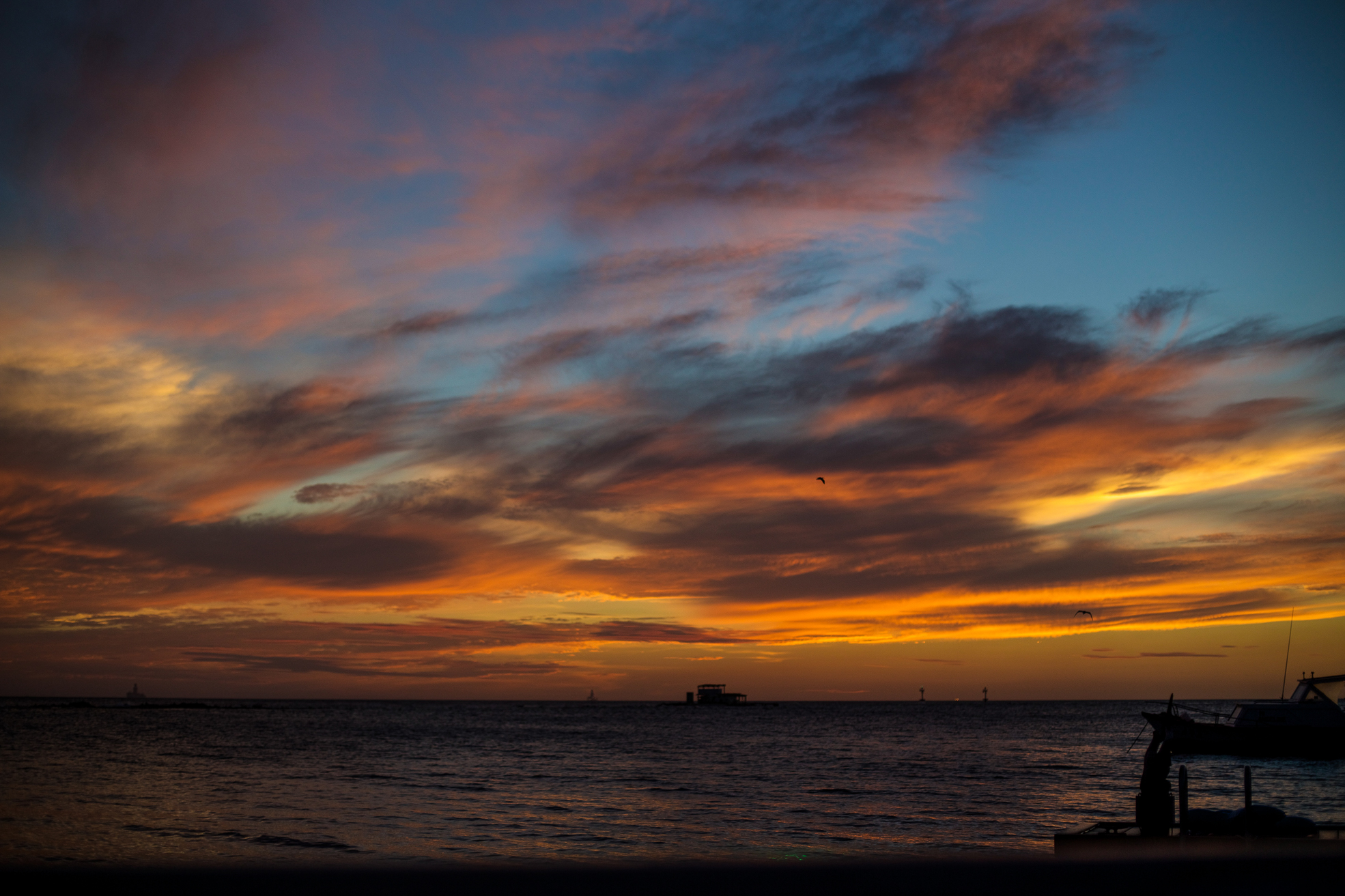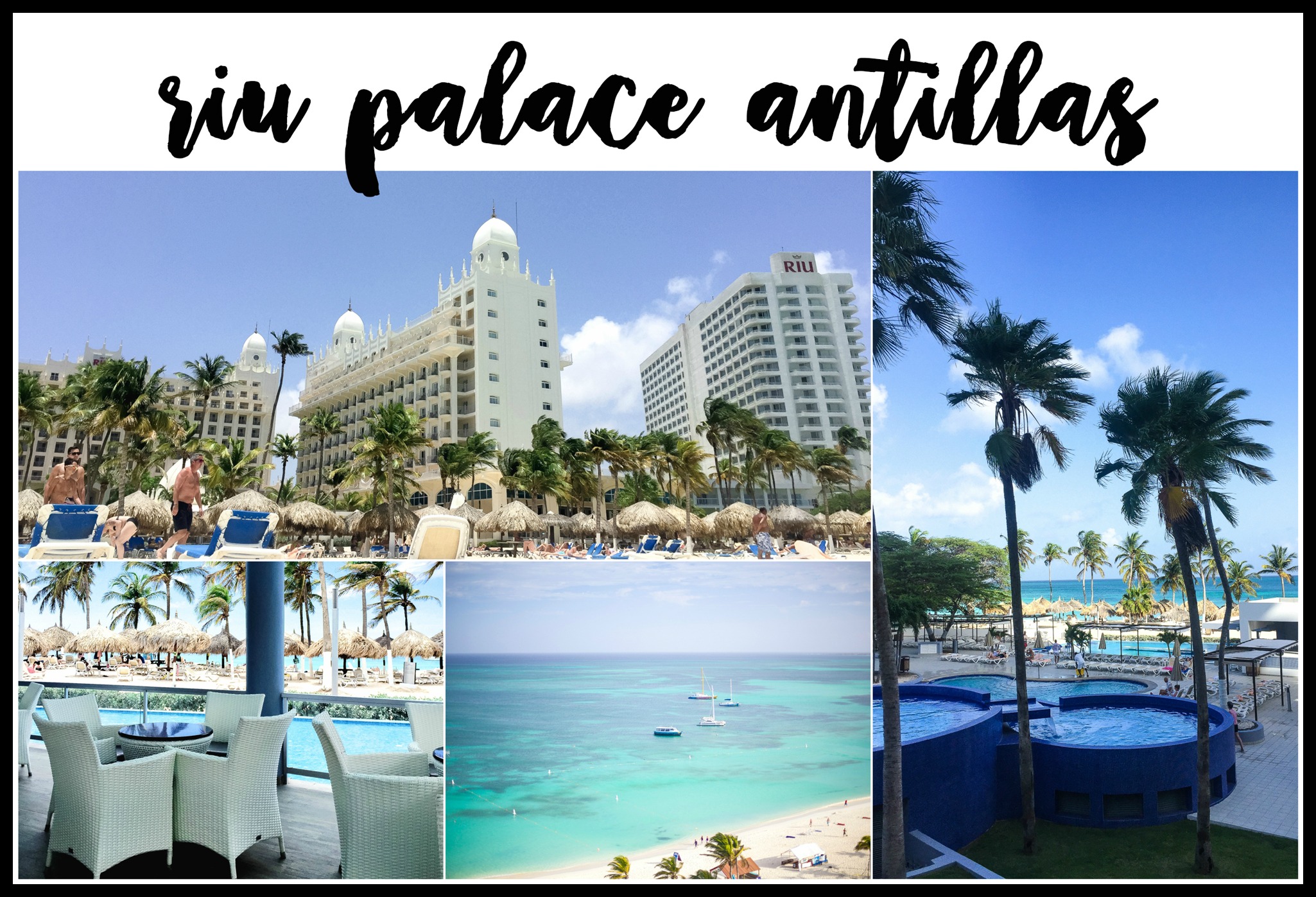 Where we stayed: The Riu Palace Antillas
Our resort experience: B
It is an all inclusive resort
The Riu has two locations on the island, side by side, one hotel is adults only, the other is family friendly
We opted for the adults only hotel, however, we had access to the other Riu hotel (those who stay at the family friendly Riu do not have access to the adults only location)
Why did we chose the Riu Palace Antillas? When researching we wanted an adults only, all inclusive resort, and this was one of the only (if not the only, I can't remember!) that met that criteria.
Why an all inclusive? We didn't want to worry about every meal or cocktail we ordered.
Hindsight is 20/20, but Tyler & I both agreed that next time we probably wouldn't opt for an all inclusive (at least in Aruba!). Why? We wanted to get out and explore other restaurants, especially for dinner, but felt guilty doing that because we had already paid so much for the all inclusive aspect.
The food was just okay.
I would definitely recommend making reservations at the restaurants in the hotel. Otherwise, dinner is buffet/cafeteria style.
The rooms were very spacious, but could have used some upgrades.
The pools were nice, however, the swim up bar pool was ocean level. Due to the extreme wind, there was plenty of sand that ended up in the pool– it wasn't pleasant.
The service was good, and for the most part the staff was very friendly.
Due to the fact we probably wouldn't do the all inclusive thing next time, we think we will stay at the Hyatt instead!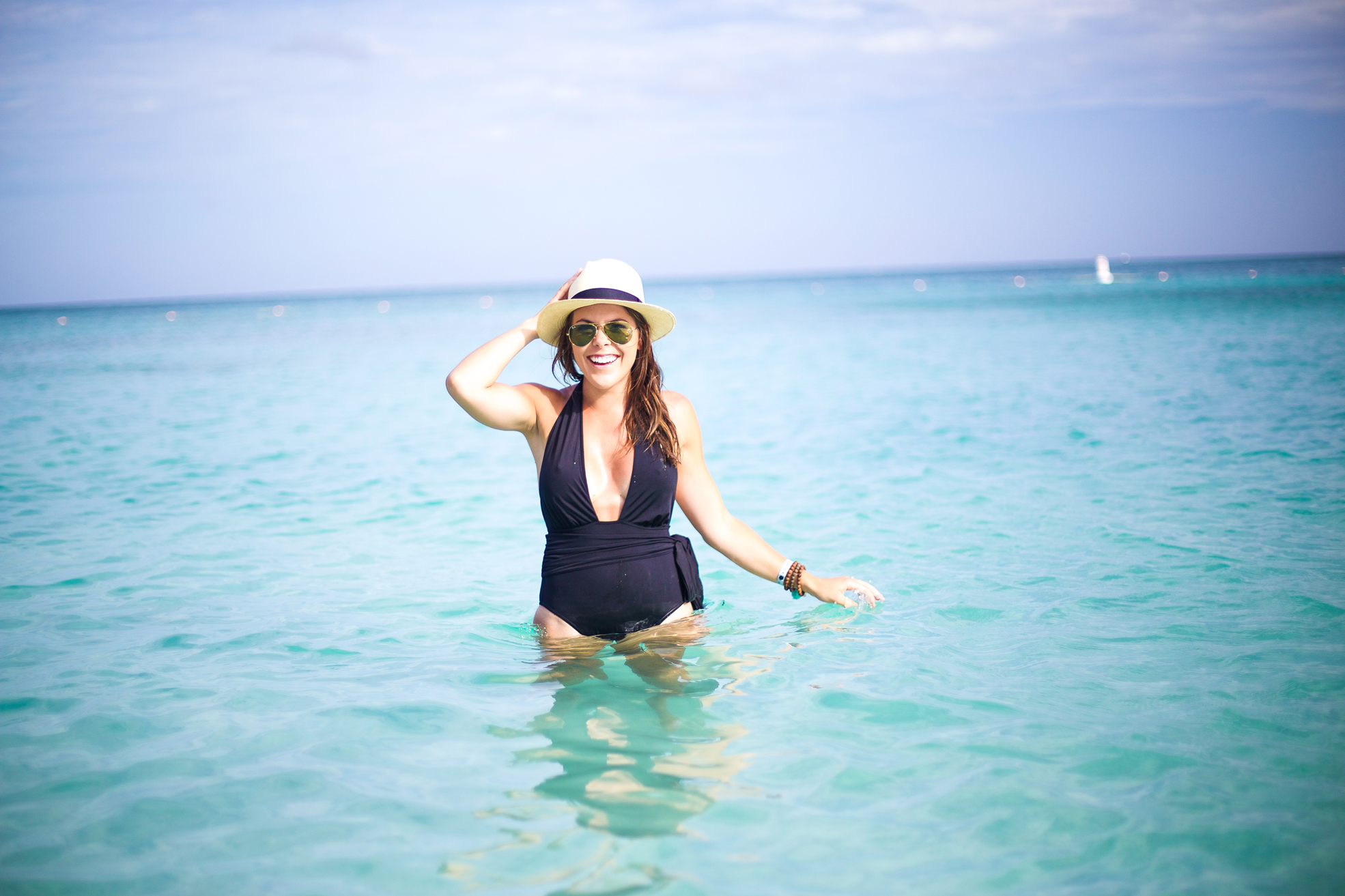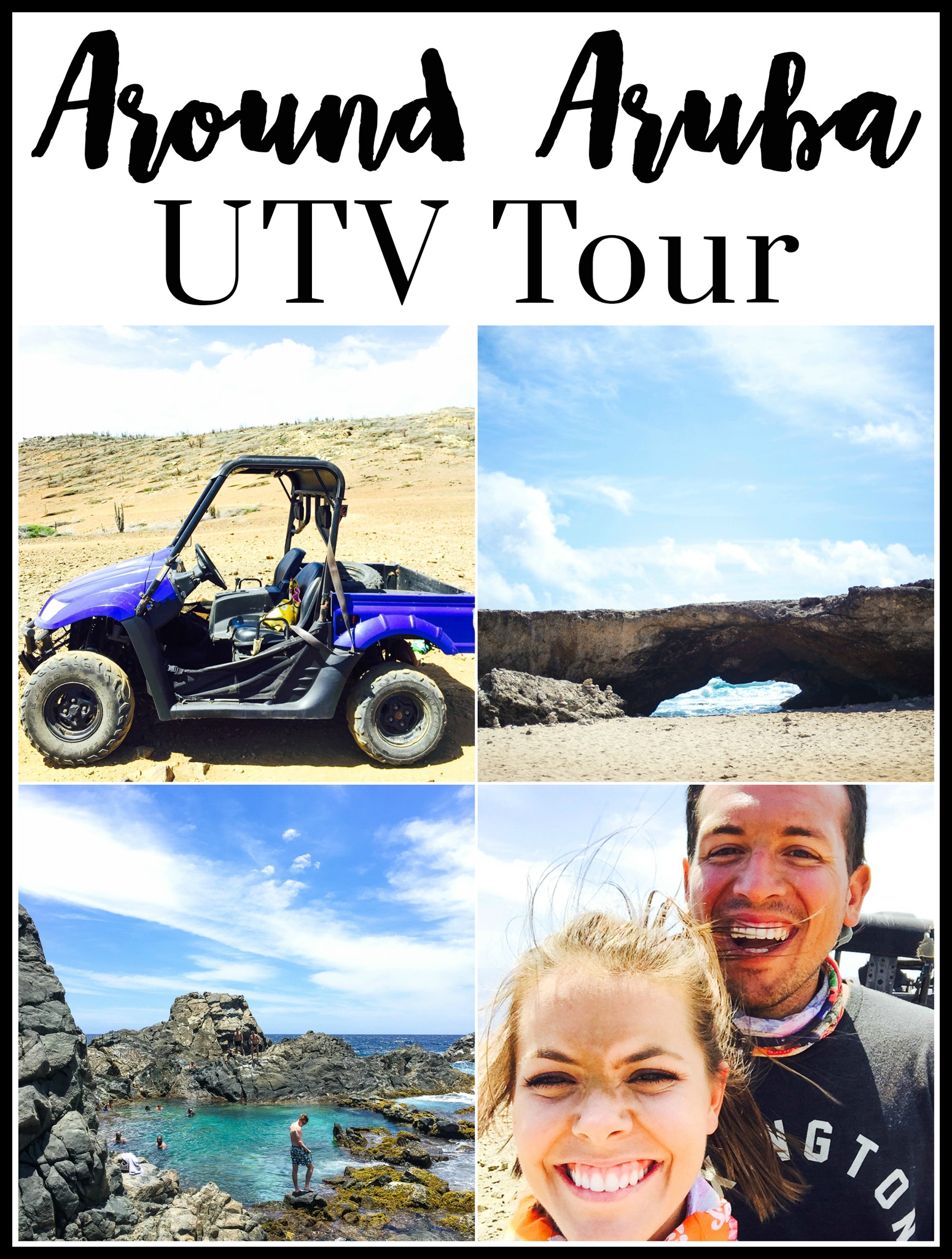 Our favorite Excursion of the trip was the UTV Tour with Around Aruba Tours! It was SO fun!! The UTV seats two and is covered, which is why we oped for the UTV instead of the ATV. Remember me saying the island is like a desert?! Well here is where you actually realized it really is! They gave us masks to cover our noses & mouths to prevent the dirt & sand from getting all over our faces. Sunglasses are also a must to keep the sand out of your eyes! However, even with our best efforts we were covered! We didn't mind though because the tour was so fun! 
A bus from Around Aruba Tours picked us up at our hotel & took us to Philip's Animal Garden. The Animal Garden is a wildlife sanctuary, and they let you feed the animals before you gear up & head out on the UTV. There is a tour guide that leads the group of ATVs & UTVs throughout the 4 hour tour. Side note, the tour guides were awesome too! We made four different stops across the island during the tour. First up, was the first chapel on the island, you were able to see inside of the chapel and light a candle for loved ones that had passed. Tyler's granny is no longer with us, and she always said Aruba was her favorite island, it was such a special moment to share lighting a candle for her 🙂 On the rest of the tour we also saw a natural bridge, beautiful views of the ocean, an old gold mill and we ended our trip with a dip in a natural pool!
It was well worth our money & we had so much fun!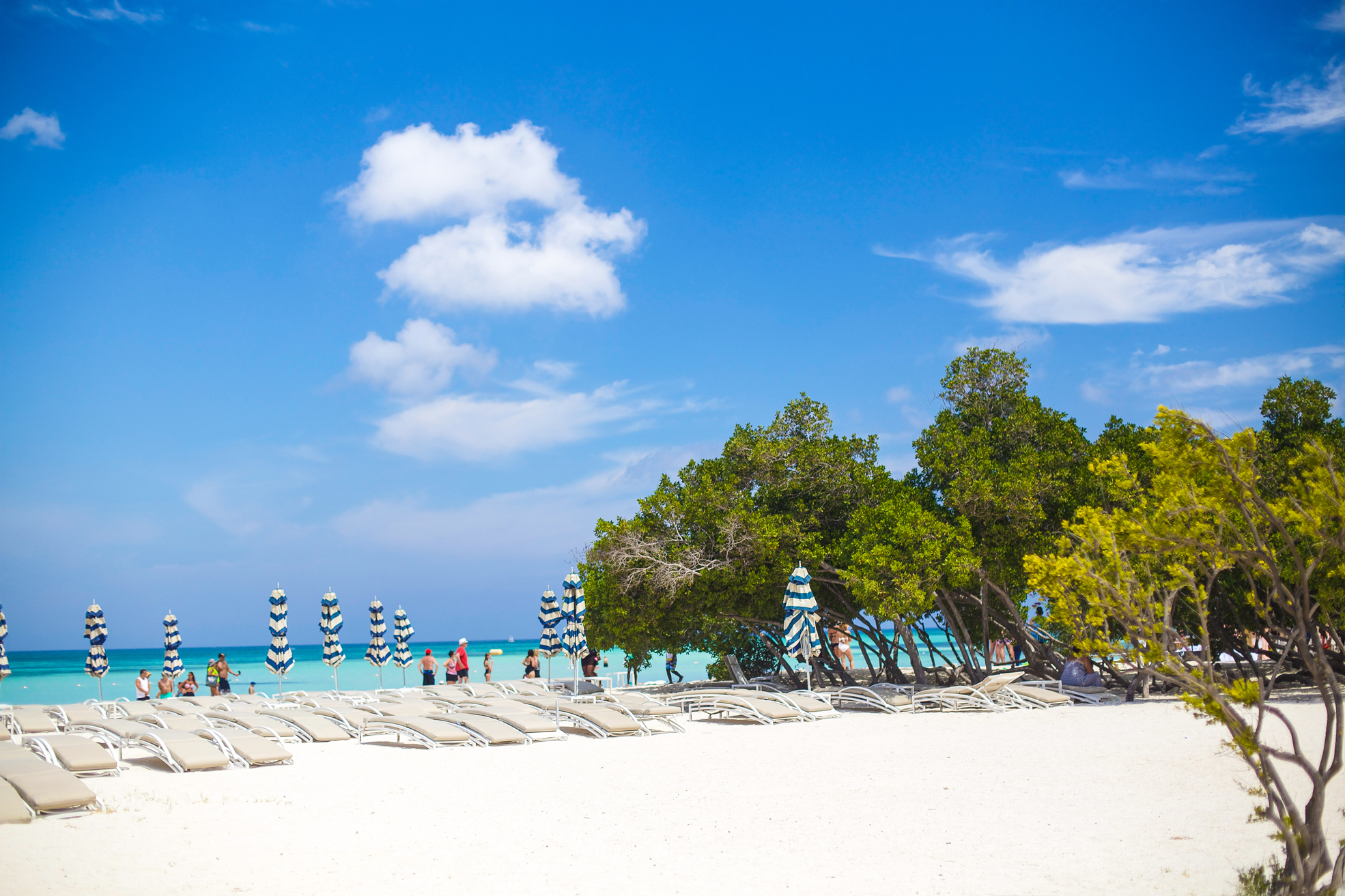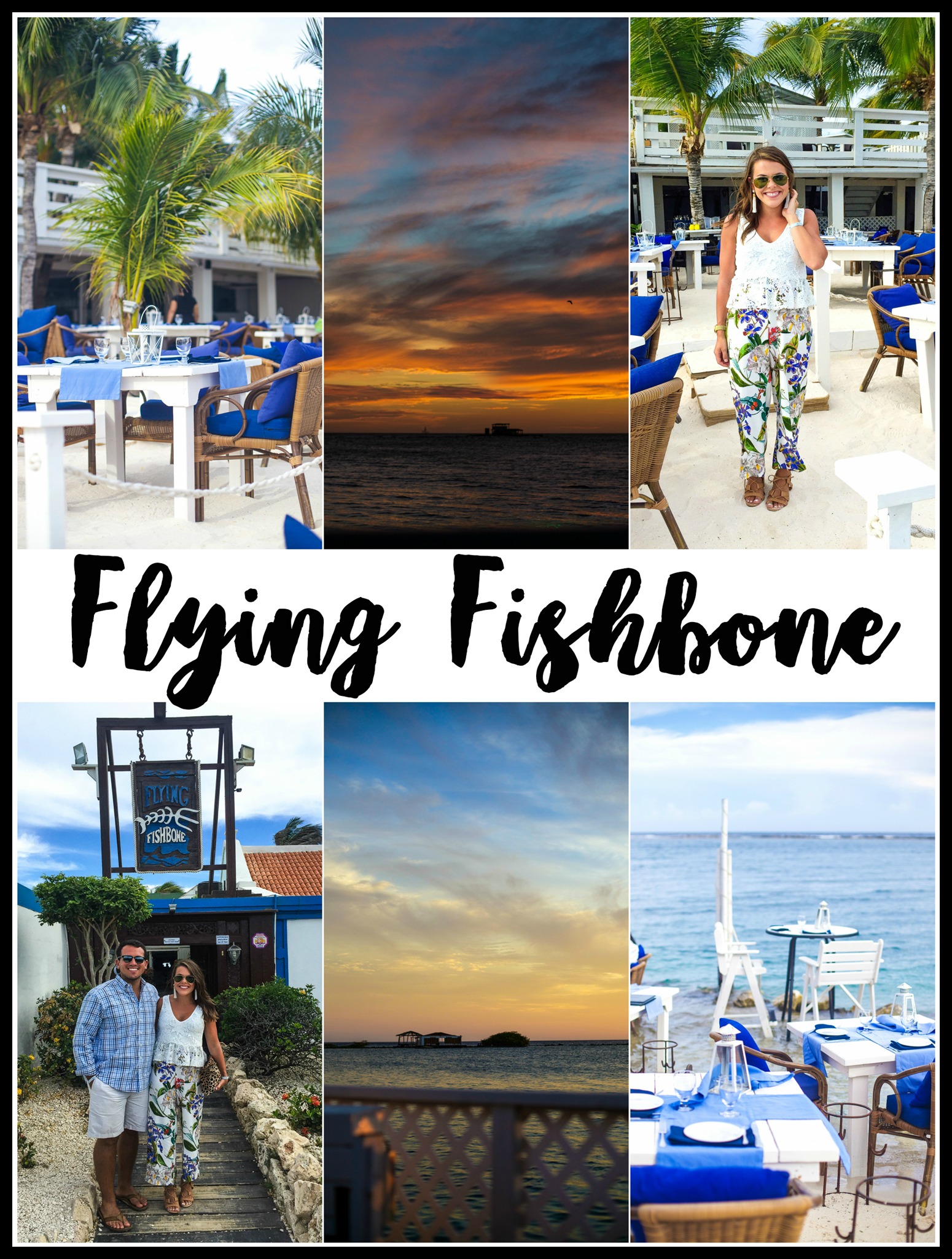 We did make an exception for dinner one night, and ate outside of the resort. We had SO many people recommend Flying Fishbone for dinner, so of course we had to see what it was all about! Y'all, I've never had a dining experience quite like this one. It will be something I remember forever, it was amazing. It was about 30 minutes away from our hotel, so it is a little bit of a drive, we opted for a taxi so we could enjoy some vino 🙂
First off, you HAVE to make reservations. Second, if you want to sit in the water the seats are limited, so you want to make reservations as soon as you get to the island. Also, ask the hostess what time the sun sets, because that is when you want to make your reservation. We were unable to score a table with our feet in the water, but our table was about as close to the water as you could get. The view and sunset were just so beautiful, and the food was delicious! It is a little pricey, but if you're going to splurge one meal, this is the place to do it!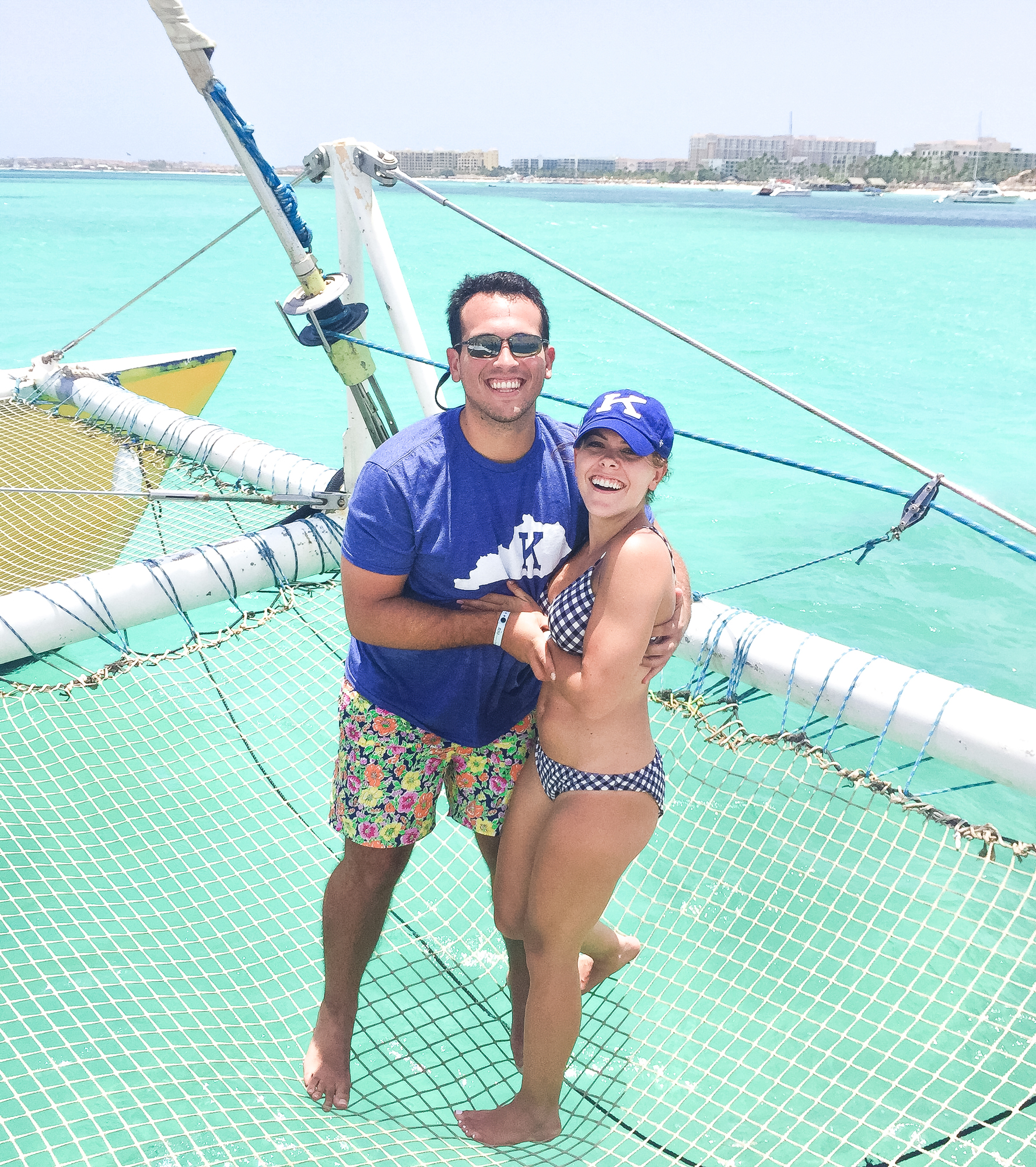 This picture was from our snorkel excursion 🙂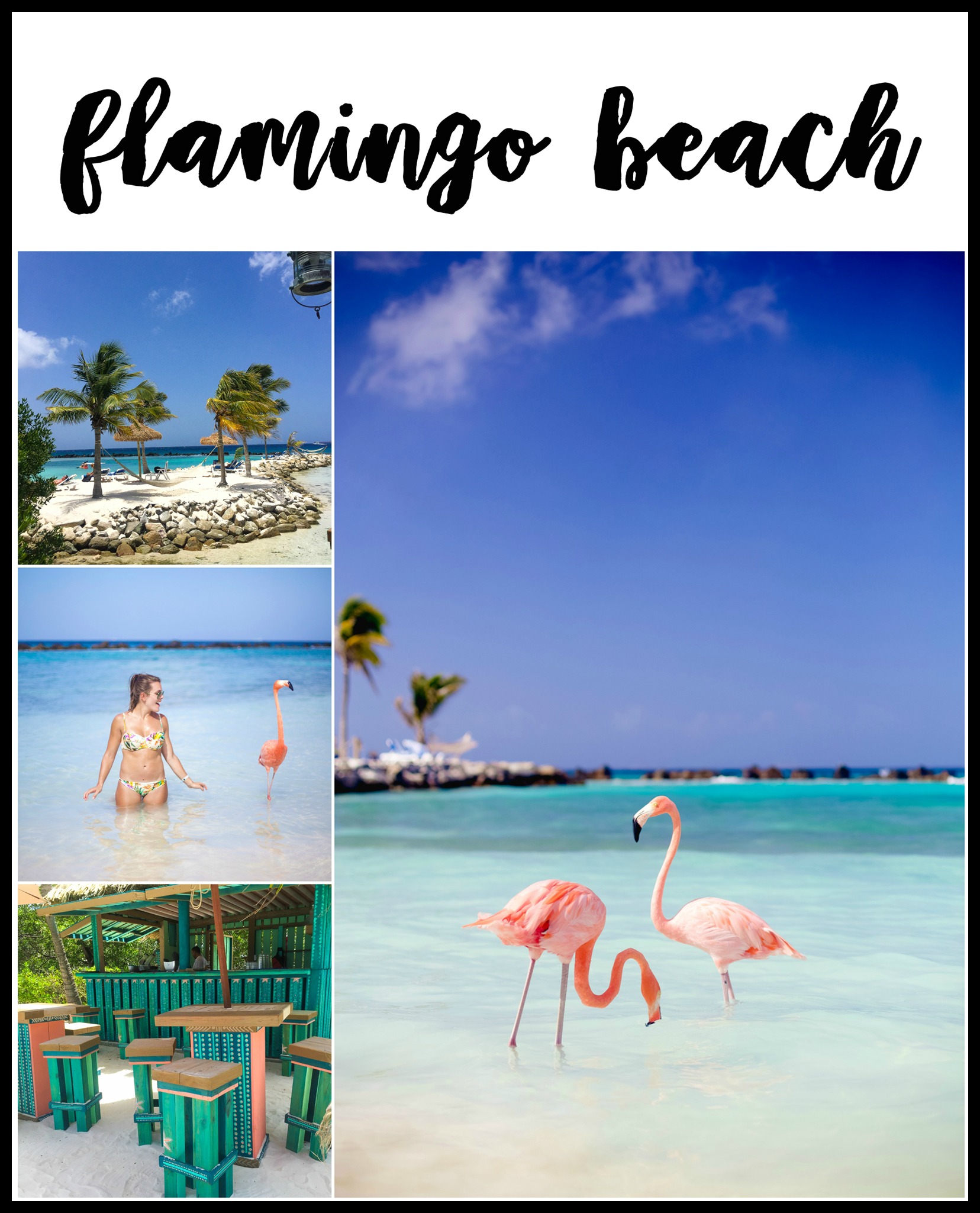 Flamingo beach!! This was the one thing that set Aruba apart from the rest of the Caribbean when we were researching where to honeymoon. It might seem silly, but all the Caribbean islands started to seem the same, and this was something I knew the other islands didn't have! Flamingo Beach is the private island for the Marriott Renaissance Hotel. If you're a guest of the hotel you can go for free, however, if you're not a guest you have to buy a day pass.
Let me start by saying I would make this an all day affair. It is $100 per person for a guest pass. The pass includes access to the beach, lunch, one cocktail and an hour of non motorized water sports. However, if the hotel is at full capacity, they do not sell the guest passes, so I would suggest calling the Marriott the morning you are wanting to visit to make sure you can get a pass. The beach is beautiful, the lunch was really good and just look at those flamingos! There were 6 of them I believe, and they just roam the beach, minding their own business– waiting for their picture to be taken 😉 !
We opted to visit on our last full day on the island, and it was quite nice getting out of the resort and visiting elsewhere!  Also, Flamingo Beach is an adults only beach. Attached to it is Iguana Beach, which is full of iguanas and is family friendly!
All in all, we are so glad we visited Flamingo Beach, it was well worth the money!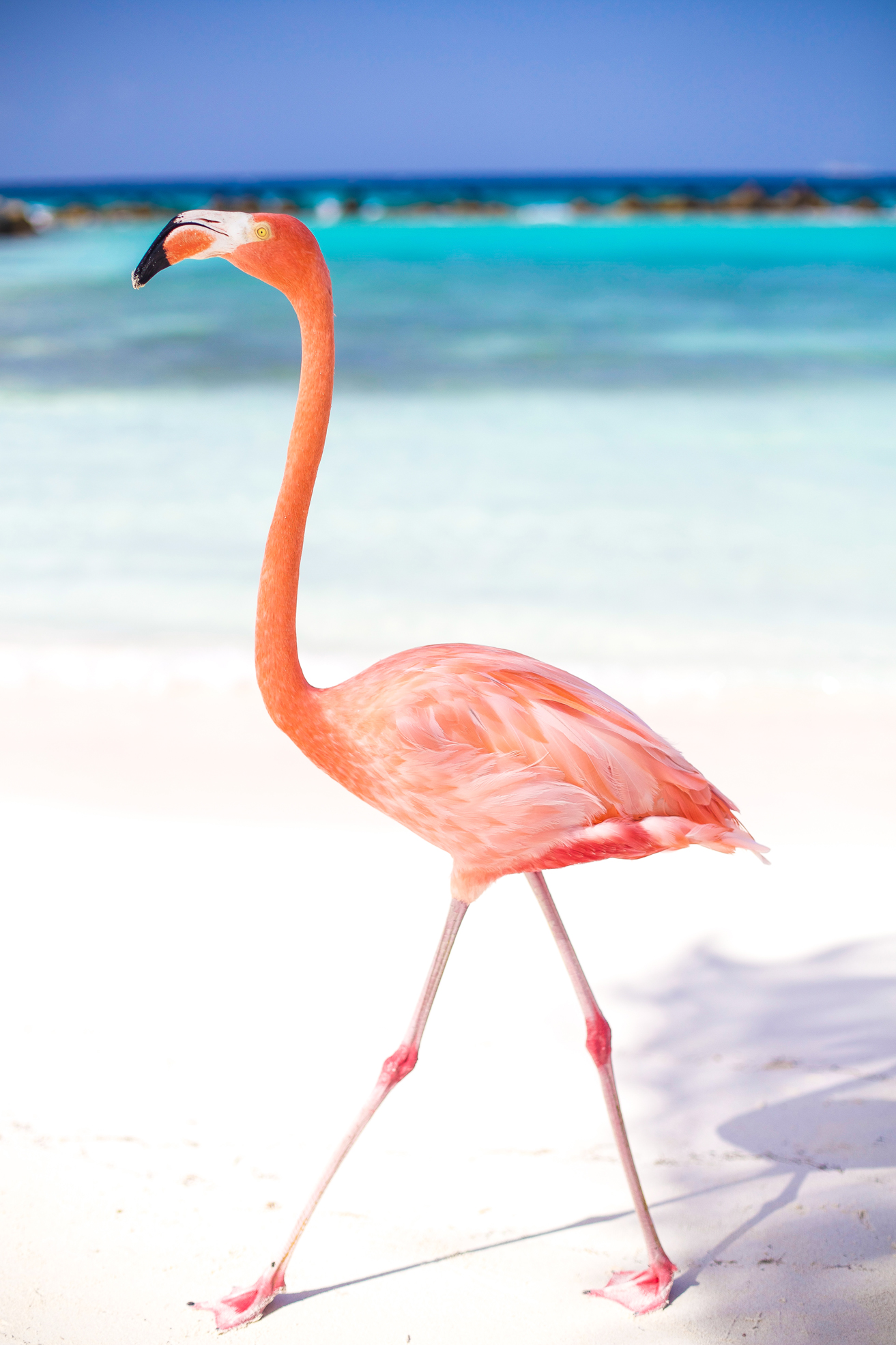 And there you have it y'all! As I am sure I repeated myself 100 times, but we loved Aruba and would recommend it to anyone! If you have any questions, just ask!
Also, this post isn't sponsored, I just wanted to share our experience with y'all in case you're thinking of taking a trip to Aruba!
xoxo!