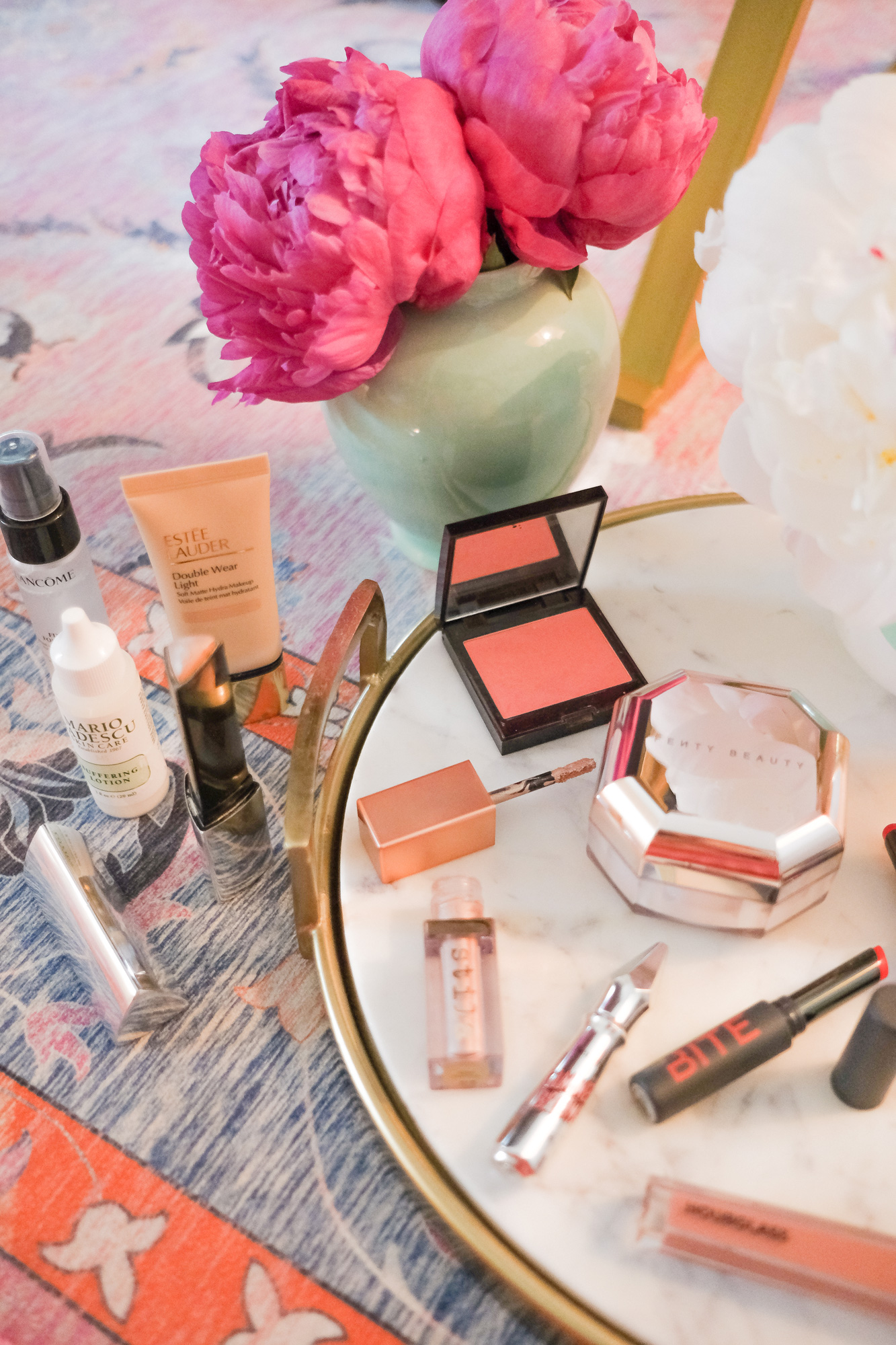 Sharing my May beauty favorites & there are so many amazing beauty buys in today's roundup! Including the statement lip product I can't quit wearing, my acne fix, face blurring products & more!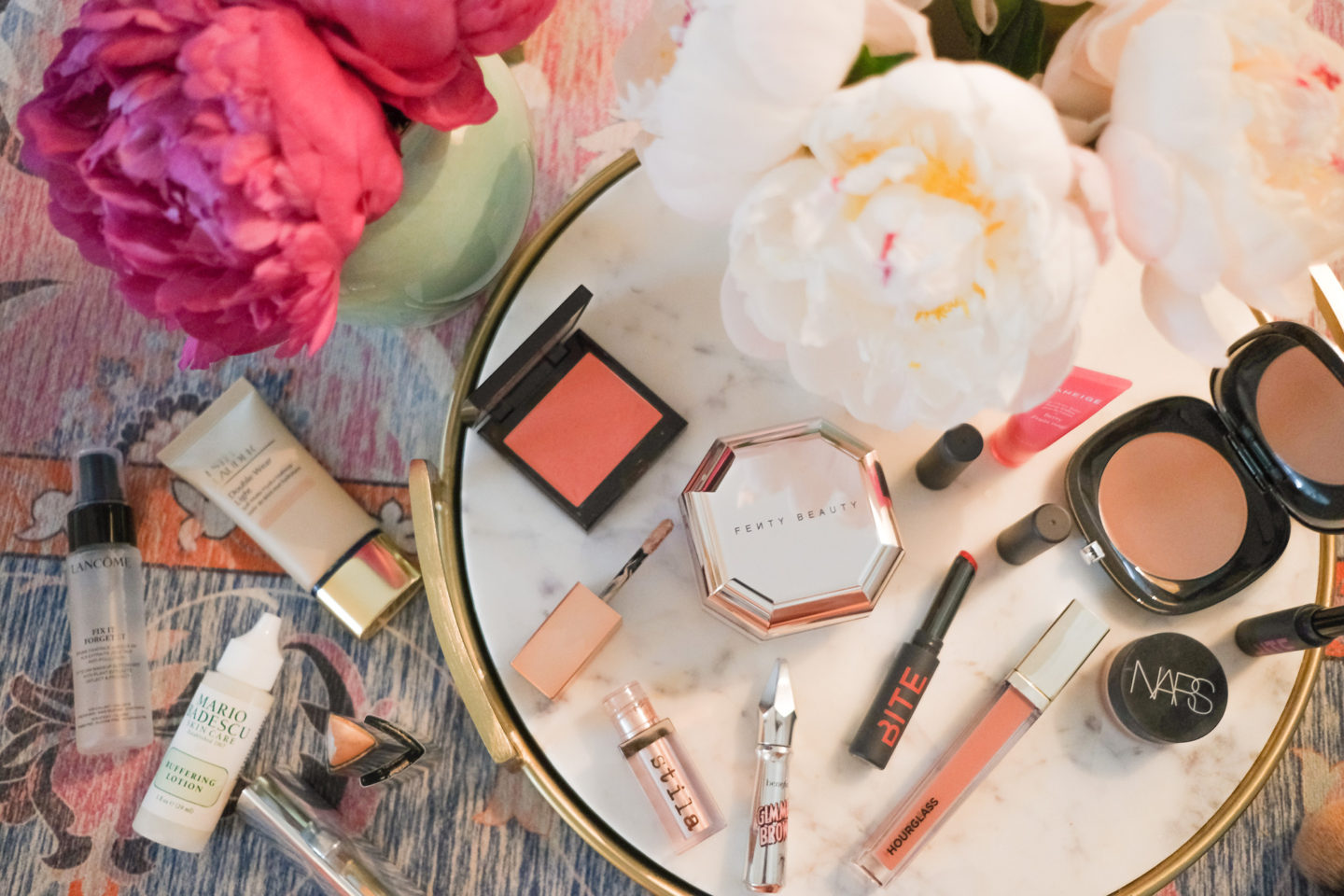 Lancome Setting Spray: I scooped this up during the most recent Sephora sale, and I must say, it works! I always find I like my makeup more when I use it & it definitely helps with the longevity of my makeup.
Mario Badescu Buffering Lotion: Some of y'all might have seen on Instagram stories, but I've been having a bit of an acne saga of late. It pops up out of no where, and they're just pesky enough to need a quick fix. I asked for recommendations, and this product was highly recommended. I decided to pick it up because I didn't have to order online (I found mine at Dillard's), and it was affordable. I've been so pleased with this product, it reallyyyy does work!
Estee Lauder Double Wear Light: My go to foundation of late! I love the light to medium coverage it gives. I feel like I can pull off both more natural day time & fuller coverage night time looks with this foundation which I really appreciate.
Hourglass Highlight Stick: This has been a favorite for years, but I've been reaching for it more lately for a daytime highlight. You can get as subtle as you want with this product & it gives you a lit from within look.
Laura Mercier Blush: I love these blushes, and have for a while. I've mentioned them in beauty favorites in the past, but they need more mentioning. My favorite colors:: Ginger & Peach
Liquid Stila Eyeshadow in Kitten: I've had a smaller tube of this for a while, but was running low, so I bought a full size during the Sephora sale and I am SO glad I did. It is the perfect product to put all over the lid, it gives a gorgeous wash of shimmer.
Fenty Powder in Lavender: Another Sephora Sale pick up, and I love this stuff y'all. I set my under eye concealer with this & it is great! It brightens the under eye so well!
Benefit Gimme Brow: I have been neglecting all of my other eyebrow products for Gimme Brow & I'm not mad about it. It's just SO easy y'all! I reach for this daily to fill my brows.
Bite Beauty Lip Stain: Hands down my favorite lip product. I need Bite Beauty to come out with about 10 more shades of this! This product is beyond comfortable to wear, lasts so long, and leaves a stain on your lips that lasts all day. I have Orange Fizz & Strawberry Frozé & love them both!
Hourglass Lipgloss in Sublime: These new glosses are incredible! So comfortable to wear, they are SO glossy & just stunning on the lips. I love this Sublime shade, but there are so many other shades on my wishlist.
NARS Concealer: I reach for this concealer on a more natural makeup day, when I just need a little help under the under eyes. Its super comfortable & doesn't crease once you set it.
Marc Jacobs Blurring Powder: This is another new to me product, thanks Sephora sale! I use this after I'm done with my face makeup, and just lightly dust over my skin. It gives my skin such a pretty finish and does leave a more blurred look to the skin.
Laneige Lip Balm: My favorite lip mask is now in a lip balm! I still don't like it as well as my lip mask, but it is great for on the go & to carry in your bag!
What products are you loving right now?!