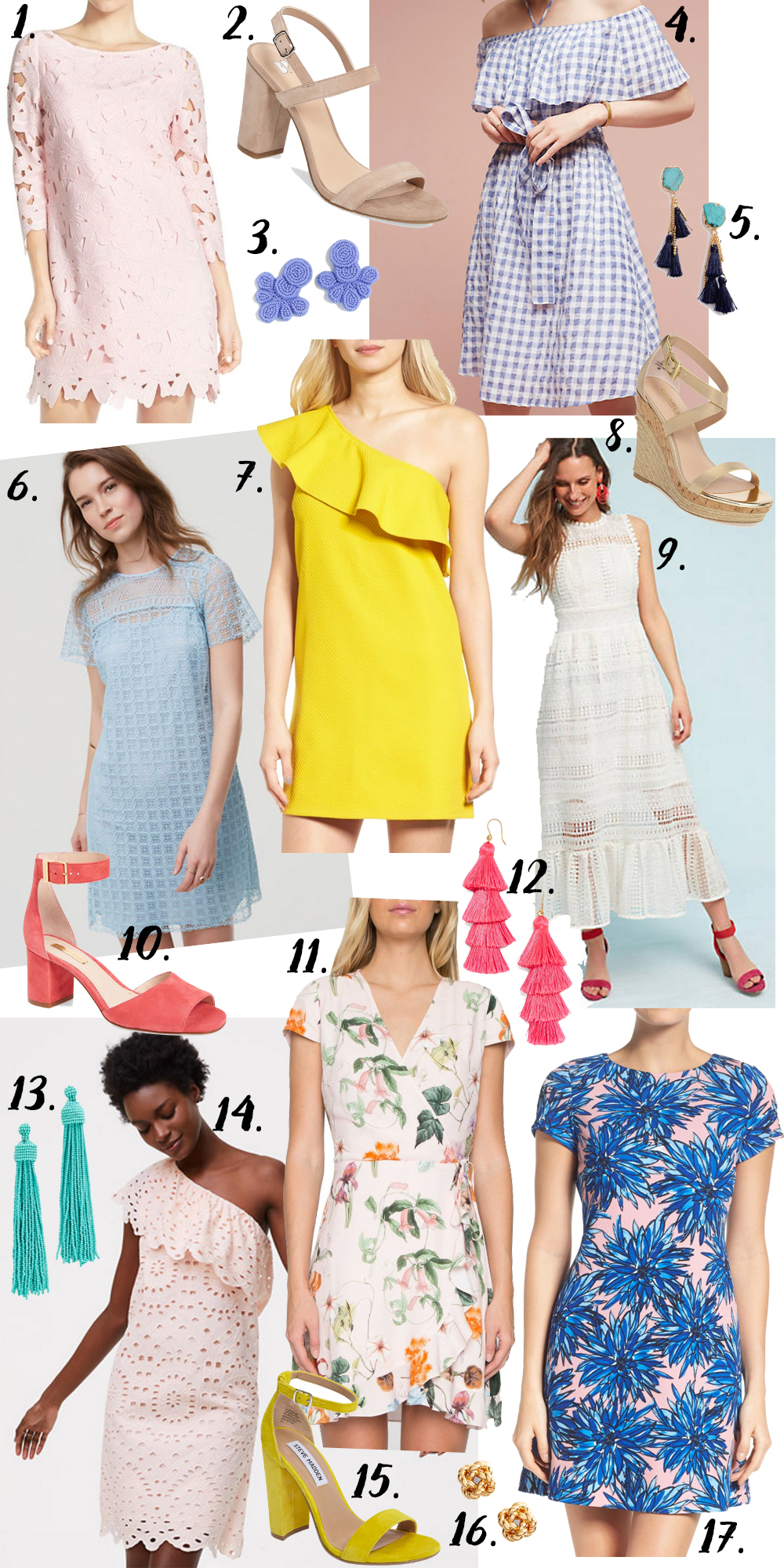 Pink Lace Shift Dress: also comes in white & turquoise! 2. Nude Sandals: comes in 8 other colors 3. Periwinkle Earrings 4. Gingham Off The Shoulder Dress 5. Navy Tassel Earrings 6. Blue Shift Dress: also comes in petite! 7. Yellow One Shoulder Dress 8. Nude Wedges 9. White Midi Dress 10. Coral Sandals: comes in 7 other colors 11. Floral Wrap Dress 12. Pink Tiered Fringe Earrings: these come in 4 other colors! 13. Turquoise Tassel Earrings: comes in 5 other colors!  14. Pink Eyelet One Shoulder Dress 15. Yellow Sandals 16. Gold Knot Studs 17. Blue Floral Dress
Happy Thursday y'all! This week has been flying by and I am so glad we are almost to the weekend! Really this whole year is flying by, I can't believe Easter is almost 2 weeks away. I have always loved finding the perfect Easter dress. I blame my momma 😉 When I was little she would always find the most ridiculous smocked or girly dress for me to wear on Easter Sunday. Don't worry, my little brother Will would always match. She got real into it y'all. One early spring I broke my arm and had a cast up past my elbow. Nauturally I wanted the pastel multi color cast, and lets just say it clashed with my Easter dress.. What's a mom to do?! Wrap that sucker in tulle & cover it with little faux flowers… I kid you not 😂 I wish I had that photo because I would totally include it at the bottom of this post!
I've since grown out of smocked dresses, but I still love shopping for a cute Easter dress! In the spirit of that trip down memory lane, I found 8 adorable dresses that would be perfect for Easter (or spring in general!) and some accessories to complete the look! My fav:: this blue dress! I just love this color & the detail is so pretty. You could wear it with just about any color of sandals too! I also love this floral wrap dress. It would look so cute paired with these yellow sandals!