Happy Friday y'all! G&G's first gift guide(s) of the holiday season are here, and they're all about the ladies! Today's post includes 50+ holiday gift ideas for her!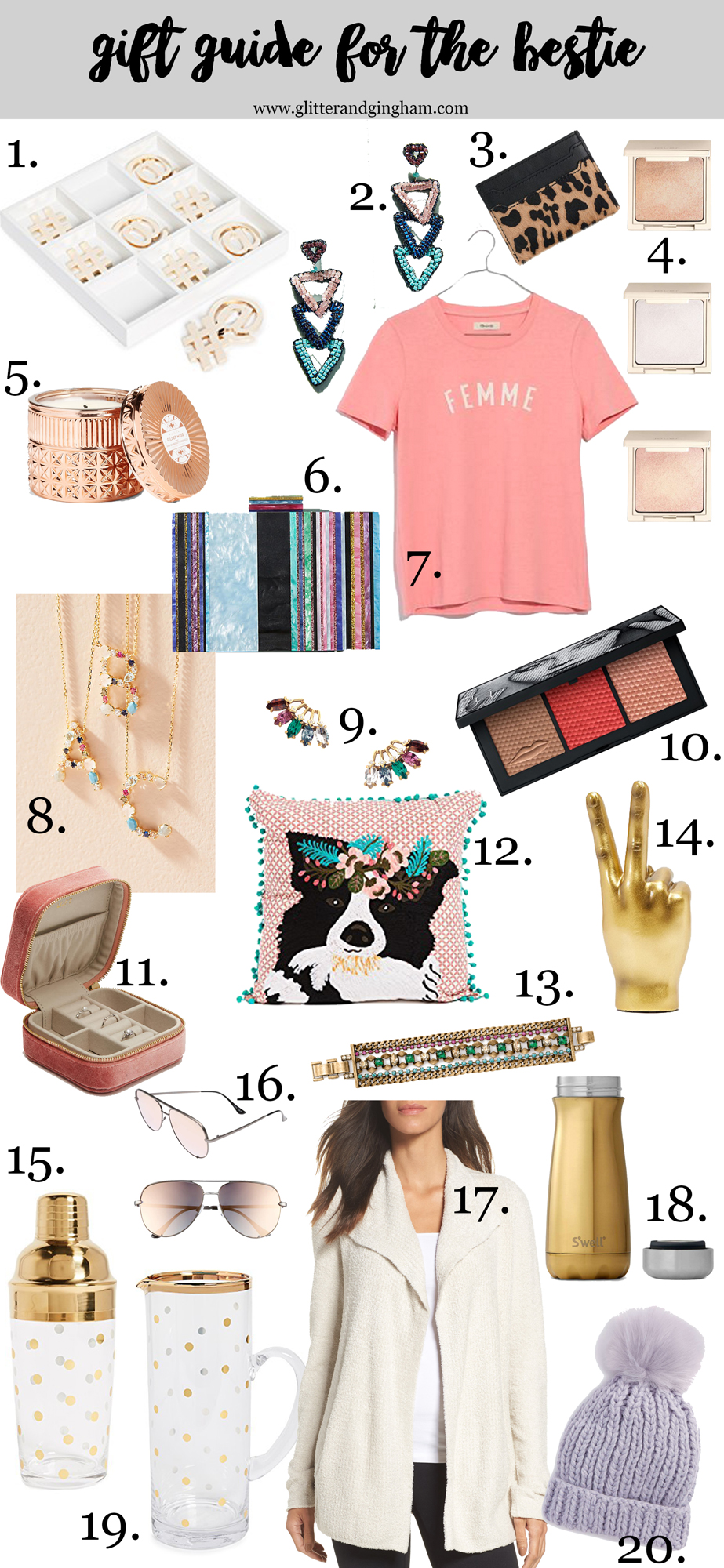 First up, the bestie! BFF's are so fun to shop for, and the possibilities are really endless. Hence the fun 20 items I've included in this roundup. Everything (besides this cozy cardigan!) is under $100 btw. Have a fitness loving girlfriend? This gold water bottle would be a fun, thoughtful gift! Does your bff love a good beauty buy? This palette is so pigmented & only $50. Need a travel friendly gift? This velvet jewelry holder is perfect for those always on the go.
Keep reading for my gift guide for mom & sister!
Shop gifts for your BFF: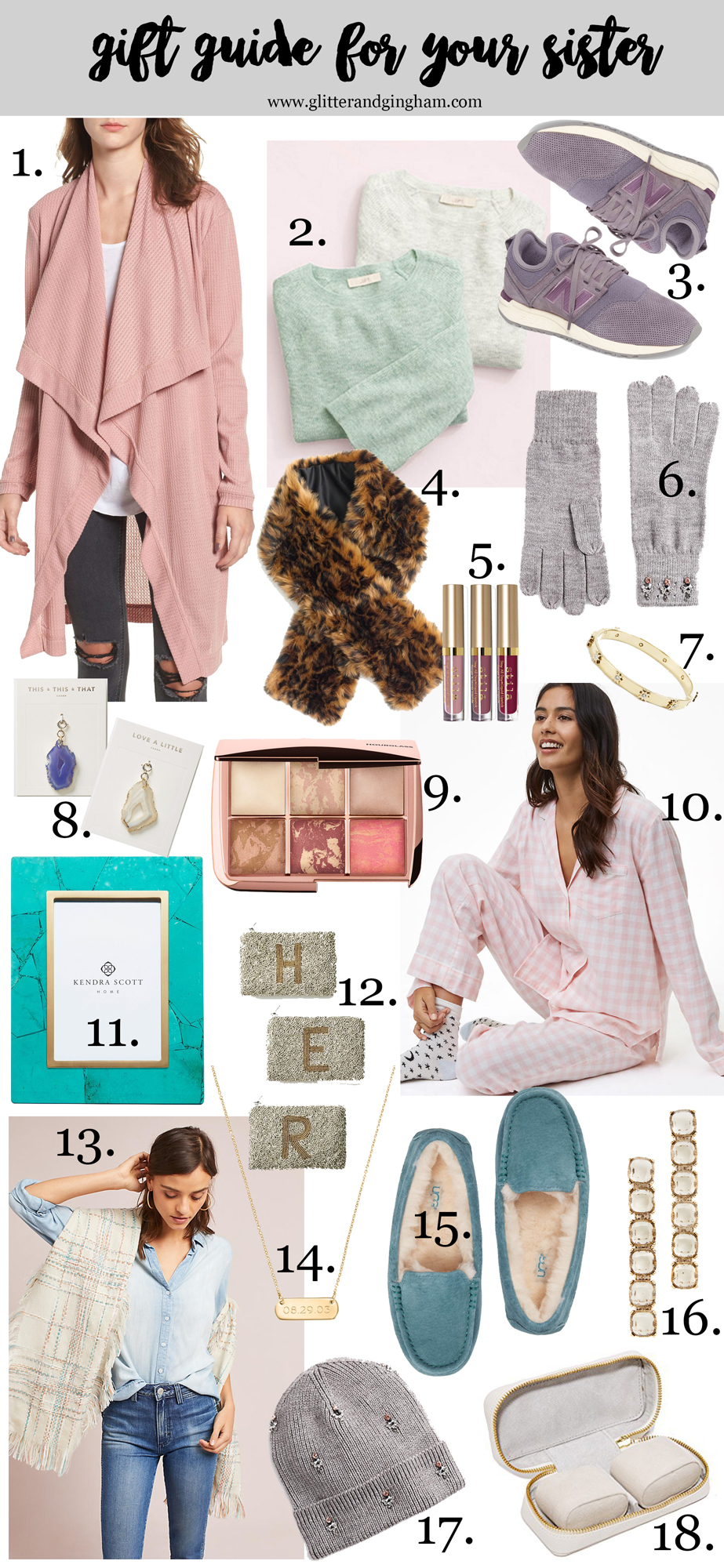 While I can only imagine (because I have a brother 😉 ) that a sister can very much feel like a BFF at times, I thought I would still put together a gift guide for those sisters out there. I've pulled 18 of my favorite items that would be perfect for sisters & sister in laws of any age! Everything (besides this gorgeous picture frame!) is under $100. Have a sister in college? These colorful slippers would be so fun & cozy for her to wear around her dorm. Have a sister in law? This engraved necklace is so thoughtful, you can engrave a date or letters on this necklace, plus it's under $50. If all else fails, who doesn't love cute pjs?!
Shop gifts for your sister: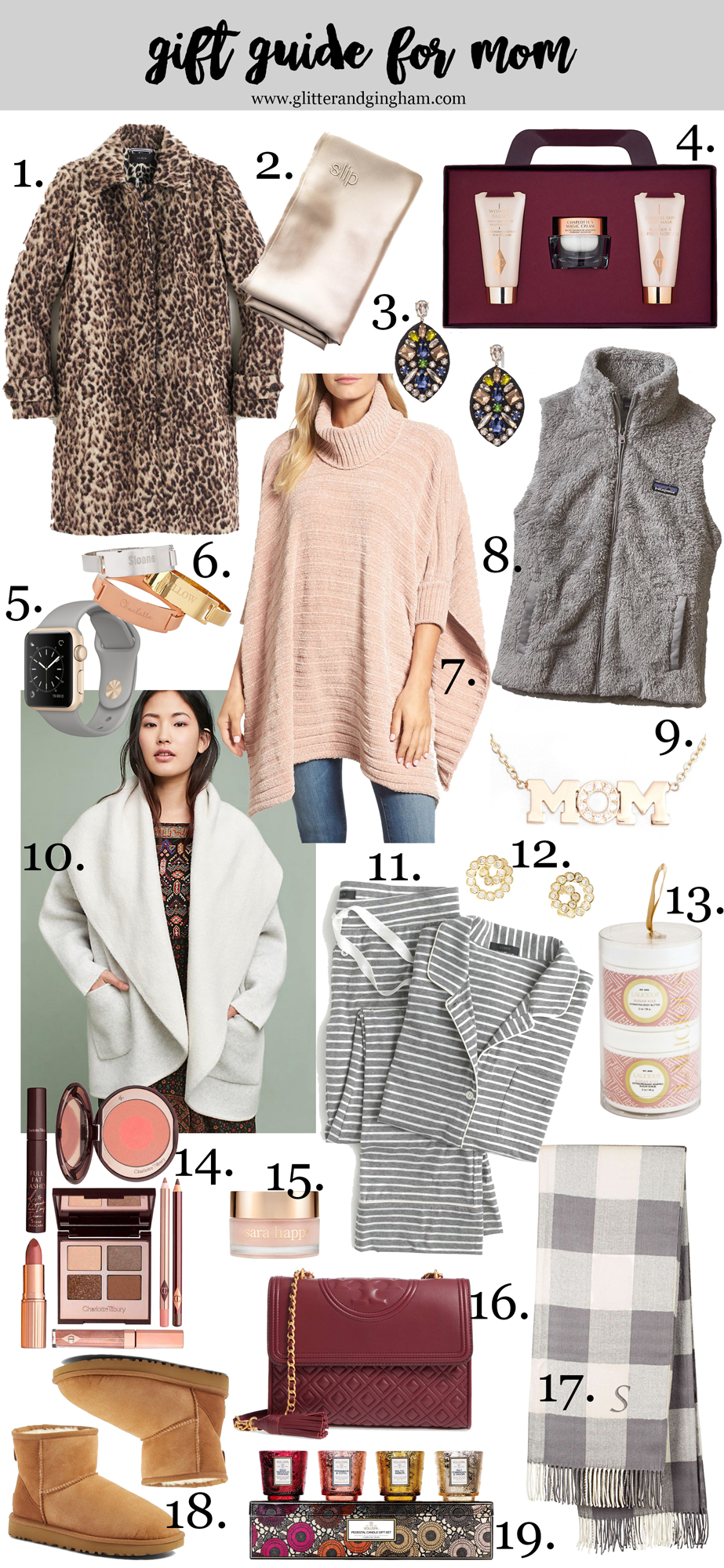 Last, but certainly not least! Gifts for all the moms in your life, momma, new moms, stepmom, mother in laws, etc. I like to splurge a little bit on the mommas on my Christmas list. Moms are the ones accustomed to give, give, give, so the holidays are the perfect time of year to return the favor. Have a new mama in your life? This engraved cuff would be so cute to have engraved with their baby's name on it. Looking for a gift for your mother in law? You can never go wrong with something cozy, these pjs, this poncho or cardigan fit the bill. Want to spoil your own momma? Buy her something she wouldn't buy herself:: go for this Tory Burch bag, this makeup set or this gorgeous leopard coat! On a budget? These studs or this monogram throw are two great options!
Shop Gifts for Mom:
That's a wrap for G&G's first gift guides of 2017! Stay tuned for more holiday content to come!