Y'all I am SO excited to share today's post! First up, our entryway design reveal with Adelé in Lexington! Our new home has brought us so much joy since we closed last November. We feel like this house was meant for us & our little family, and it has been so much fun making this house our home.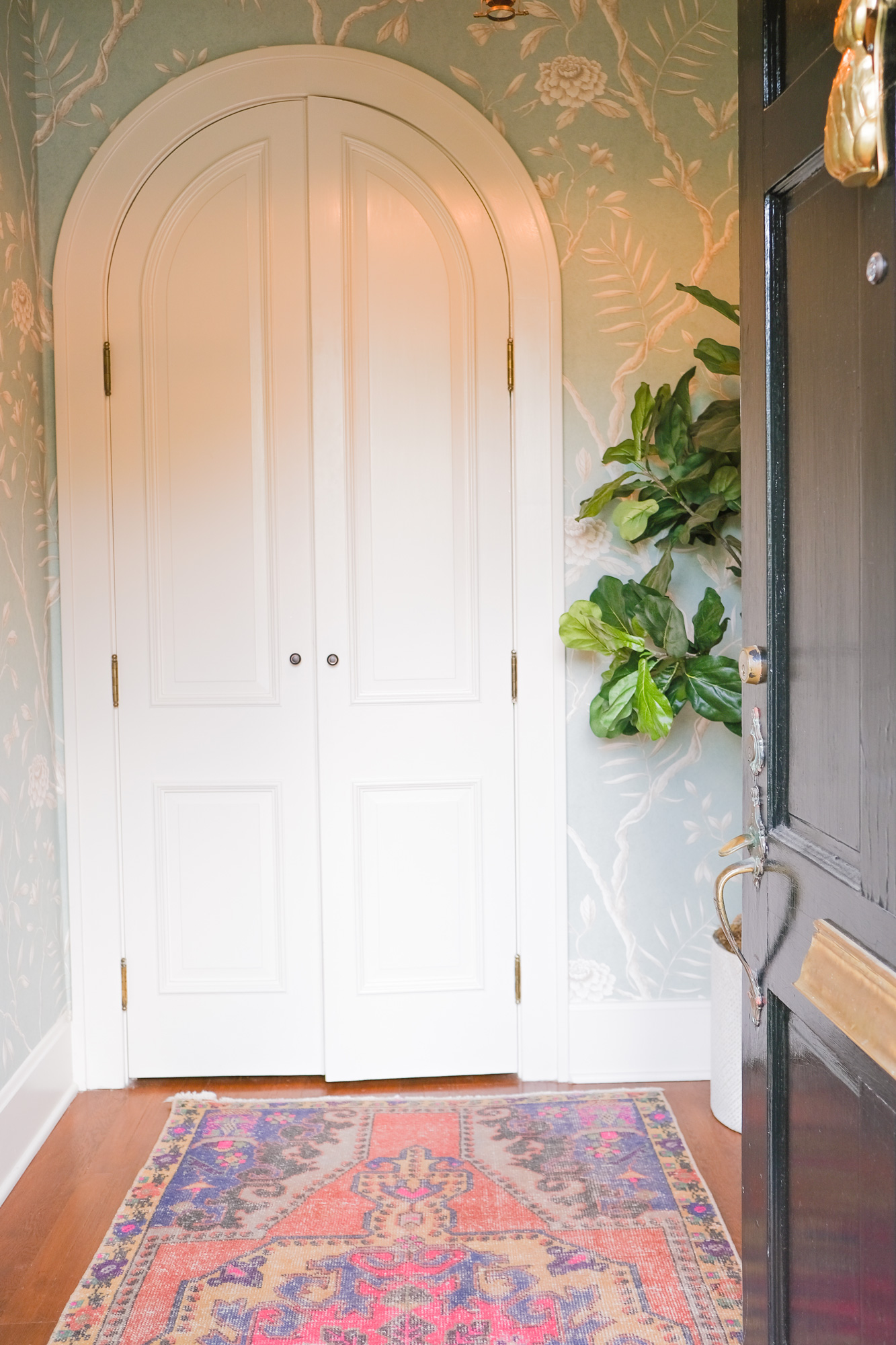 A little background about this house because I don't think I've ever really talked in detail about it on here. If y'all have been around G&G for a while, you might have seen that about 4 years ago Tyler & I built our first home together. Tyler is in real estate, his whole family is actually, so having such a support system that is so knowledgable about Lexington Real Estate is such a blessing. It was a perfect starter home for us, and we had no intention of moving anytime soon.
Ever since we built our firm home we knew we eventually saw ourselves in an older home, with more character and closer to downtown. Tyler & I had just been to NYC, and the day after we got home Tyler sent me the listing to this house. I won't bore y'all with the details, but there were countless things that fell right into place over the next week. We immediately fell in love with this charming 1938 home and never looked back. We closed the day before Thanksgiving (I wouldn't recommend that btw), and have been adding our own touches to this house ever since.
The previous owners did a ton of work to this house, which thankfully left us with little to do upon move in. This is rare in Lexington with such an old home, so we were thrilled it was move in ready. One of the cosmetic updates the previous owners did– installed an antelope stair runner & the entryway wallpaper. I love, love, love these two details in our entryway, but cannot take credit for those two details. Because of that I don't have a source for the runner, but based on some wallpaper leftovers I found in the basement I think the brand is Thibault & this option looks similar.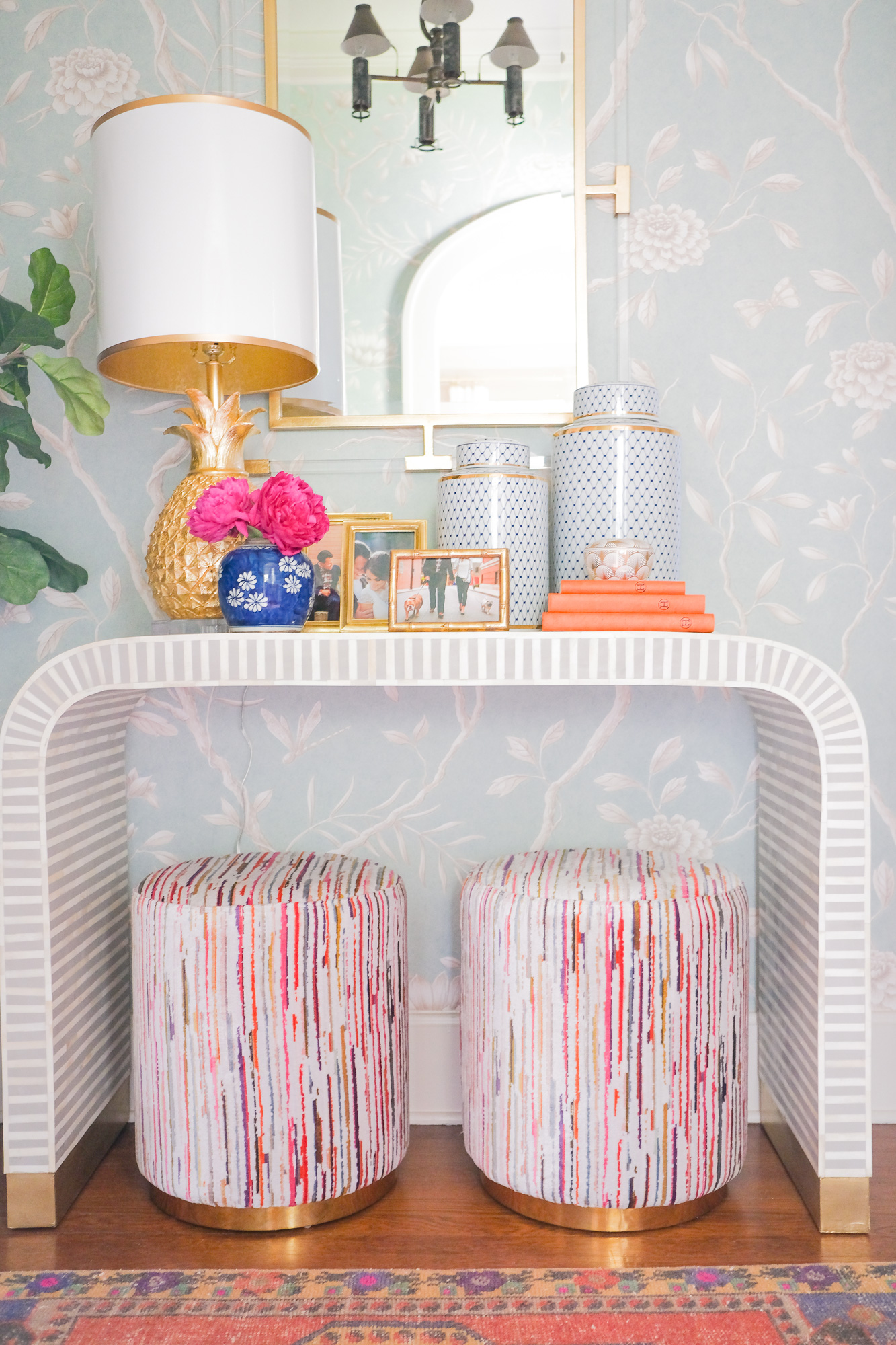 Product Details::
similar Fiddle Fig Leaf Tree: HomeGoods / Bone Inlay Waterfall Console Table / Mirror via Paxton Home: if you're local get yours here they offer it at a better price! / Pineapple Lamp c/o Adelé / Blue & White Jars c/o Adelé / Orange Hermes Books c/o Adelé / Gold Frames (back 2) c/o Adelé / Small While & Gold Trinket Dish c/o Adelé / similar (front) Gold Frame: HomeGoods / Blue & White Floral Jar c/o Adelé / Striped Stools c/o Adelé / Rug c/o Adelé / Wallpaper: was installed by previous owners (this is the brand & looks similar) / Stair Runner: was installed by previous owners

Now let's get on to the entryway reveal! I was so so excited about decorating this part of the house. I have alwayssss loved a good entry way! Albeit ours is small, I still wanted it to make a statement. The first two pieces I purchased for this space: this table & this mirror. Once I saw this console table, I was determined to make it work in this space. I knew I wanted to add a lot of color to our home, so starting with more neutral runner, wallpaper, console table, mirror helped us do that without going over the top.
I had a vision for this space, but couldn't quite figure out how to bring it to life, so I reached out to the ever so talented ladies of Adelé here in Lexington. If you're not familiar with Adelé, it's the most darling boutique that sells gifts, jewelry & home decor. They also offer boutique interior design services. I've been a fan of their work for years, and knew they could bring my vision to life. I'll walk you through our design steps, and share how this design evolved & came to life.
First things first: I chatted with Heather at Adelé, shared photos of the space & pieces we wanted to use and shared a little bit more about my vision.
Second: We honed in on the details! We wanted to decorate the table with unique pieces & pops of color. I wanted to step outside of my comfort zone with colors– hello ORANGE! I have developed such a love of jars, and love the different sizes & silhouettes we incorporated on the top of the table. We knew we wanted to add a lamp to the table, and we ultimately chose this unique lamp. We thought the pineapple design was so southern yet chic, and the tall round lamp shade added great height to the table. Heather mentioned how they like to work in groups of threes, and I love how the 3 books, 3 jars & 3 picture frames completes the table top.
Third: With the shape of the table we thought two stools would be perfect to nest underneath. I have always loved this look, so I was super excited to find a pair of stools for the table. While the stools look great underneath, it was important to me to have the ability to pull them out from underneath & use as seating in our living room when entertaining. I wanted more print & more color, so we actually decided on a fabric we were already using in our living room. They're on two throw pillows on our couch, so it was the perfect match without being too matchy matchy. Adelé actually already have these two stools on their sales floor, but we had them reupholstered in this fabric!
Fourth: Once we finished decorating the table, things just evolved. I loved this natural evolution of what we thought the space was going to look like, and what it ended up looking like. The previous owners actually left enough left over antelope runner in the basement to potentially back & make a rug. Which is what I intended to do until Heather said they got in a one of a kind Turkish rug that she thought would work perfectly in the space. She dropped it off, and it was like it was made for our entry way. The dimensions could not be more perfect, and the colors compliment all of the other pieces.
Fifth: The finishing touches! Heather from Adelé had worked her magic, and the space was seemingly finished, but I wanted to add a few finishing touches of my own. I pulled this faux fiddle fig tree into the corner, and added some beautiful peonies to the small blue floral jar. Lastly, we added some of our favorite family photos to the picture frames.
I am over the moon with how this space ended up! It feels SO me (sorry Tyler 😉), it feels fresh, fun, obviously colorful yet pulled together in the best ways possible.
I cannot thank Adelé enough. Their eye for design, attention to detail & knack for bringing a vision to life is incredible!