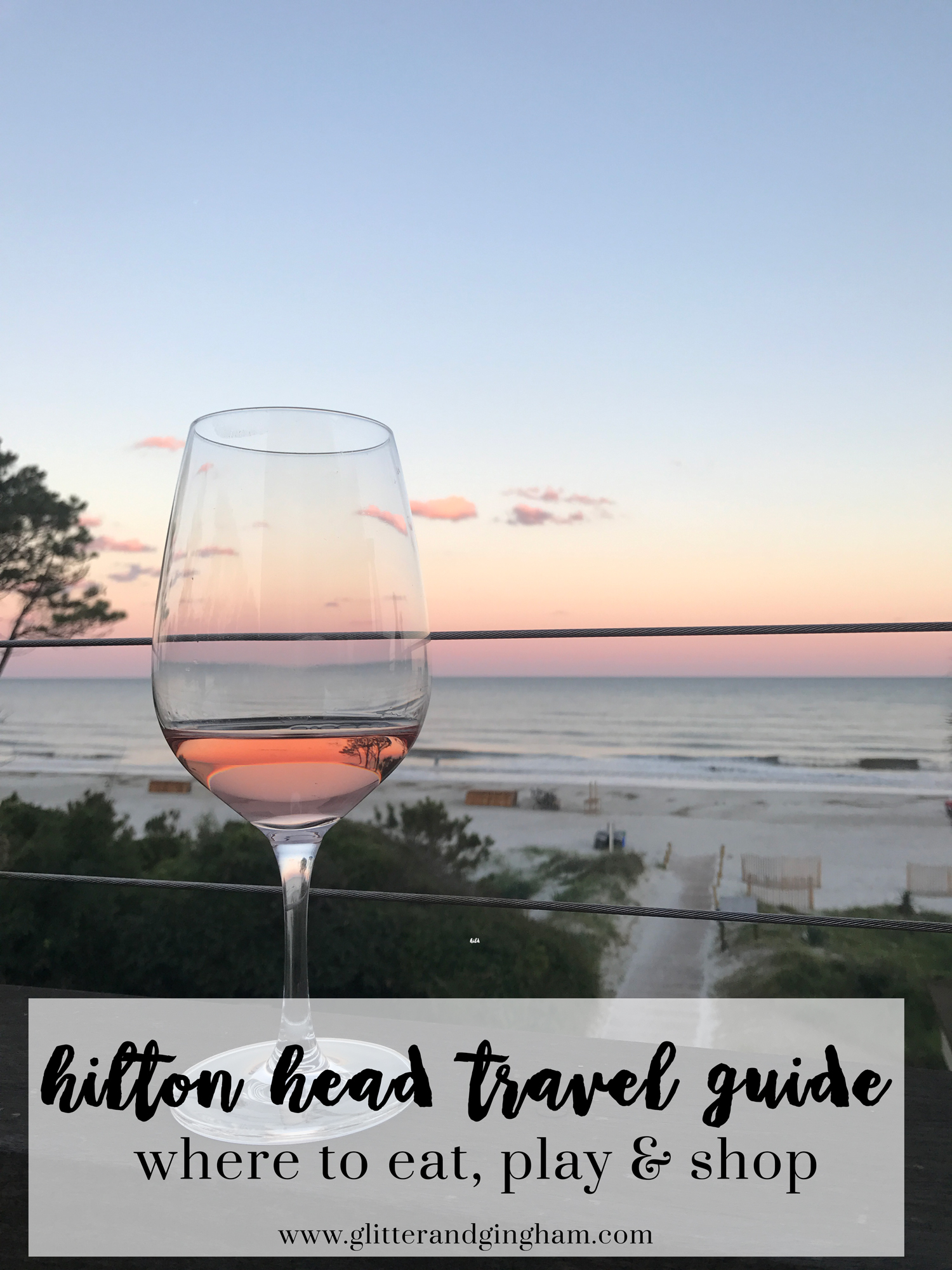 TGIF y'all! Today I am breaking down our latest family vacay to Hilton Head Island. I'm sharing everything from where we stayed, our favorite places to eat, where to drink, where to shop & things to do on the island!
Every summer we travel with Tyler's family to Hilton Head. It's our happy place and we look forward to it every year. We jump started our trip early this year with a few days in Charleston. (Did y'all catch my travel guide for Charleston last week?!) We had the best weather in Charleston, but sadly when we made it to HHI our weather wasn't the best. It prevented us from doing our normal activities, but that didn't slow us down 😉
Keep reading to see a full breakdown of our trip!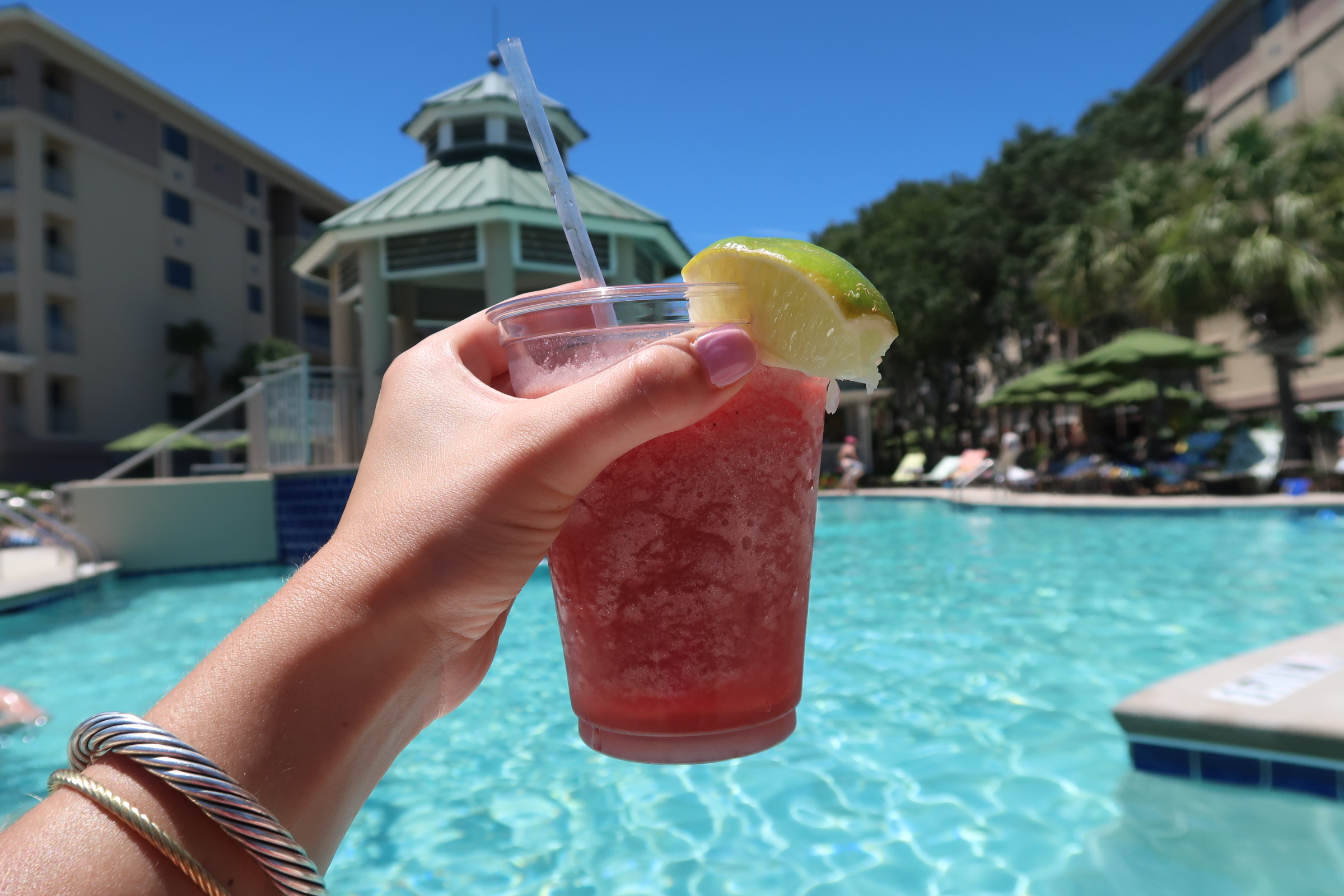 Where to stay
Let me preface this by saying that Tyler's parents have a timeshare through Marriott, and each year we stay at a Marriott property on the island.
Marriott Barony Beach
We love Barony! We've stayed here 3 of the years I've been with them, and it's our favorite. The rooms are renovated and the pool is awesome. We got massages one rainy morning and I was really impressed with the spa too!
Marriott Grand Ocean
Okay, so I said Barony is our favorite, and it probably is, but you can't beat Grand Ocean's location. You're located right by Sea Pines & Coligny Plaza, which makes bike riding so convenient 😊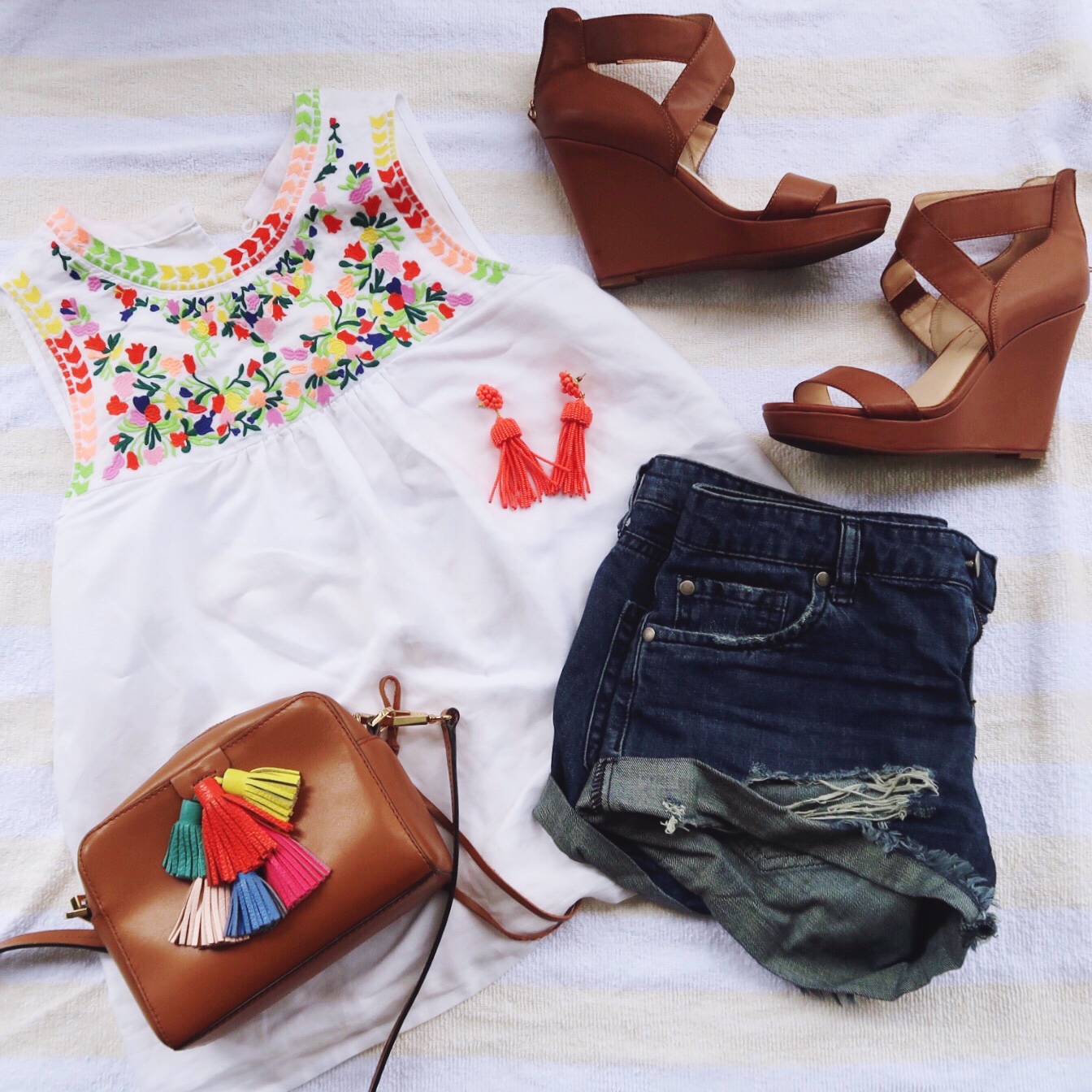 Embroidered Top / Denim Shorts / similar Wedges / similar Tassel Crossbody / Tassel Earrings c/o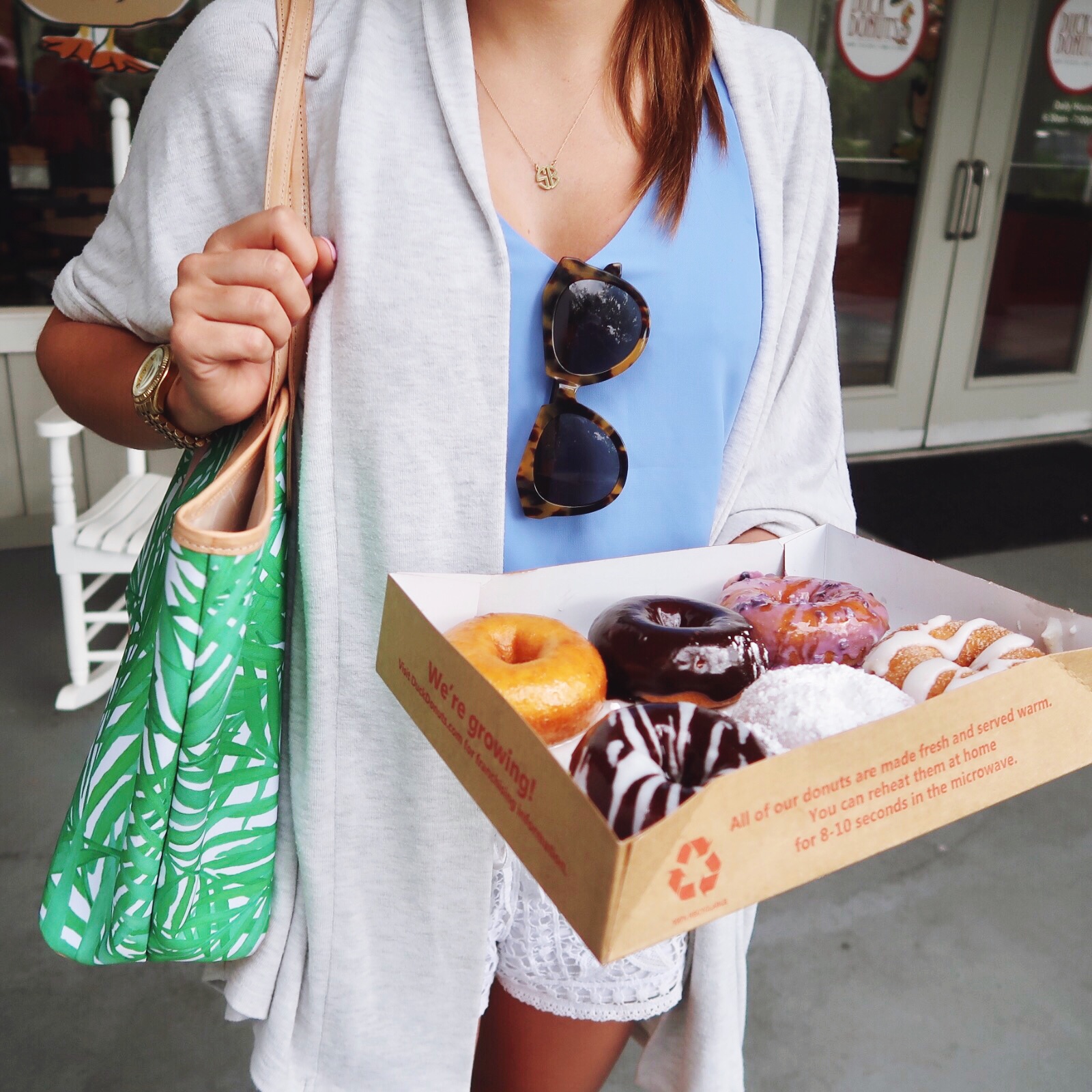 Bag c/o / Sweater / Tank / Lace Shorts / Sunnies / Monogram Necklace
Where to Eat
My favorite restaurant on the whole island! It's on the top of my list when we visit! Their rooftop is so cute and their chimichanga is SO DANG GOOD y'all!
We tried this restaurant for the first time this year, and I was super impressed! It doesn't have your typical beach eats, and I was glad. They have some healthy options too, which was refreshing after a week of gluttony.
Y'all, this might be one of the best Italian restaurant I've ever been to. The space is really quaint, and the tables are limited so make sure you make a reservation.
If you're looking for a diner type breakfast, this is the place for you. My father in law loves this little joint, and we find ourselves there every year.
Okay, so we've never had a meal here, just appetizers that aren't that great if I'm being honest, but who really goes here for the food?! If you enjoy a fun frozen cocktail, get yourself a "frosty frog"! My favorite is the Fruit Loop 😊
A pizza night is almost guaranteed for us at the beach, and Giuseppi's has some of the best on the island!
Located in newer part of Shelter Cove, this is a great place for families. It's a little more commercialized and feels like a chain restaurant, but the atmosphere is nice & the food is pretty good!
If you're looking for a good spot for breakfast or lunch, try Watusi! We didn't make it there this year, but I do highly recommend!
Okay, y'all know I love Mexican food. They have a bigger and more classic Mexican menu than Santa Fe Cafe. I still prefer Santa Fe Cafe over Holy Tequila, but I think the drinks at Holy Tequila are better!
Who doesn't love donuts?! At Duck Donuts you get to customize your own– any glaze, toppings, etc! My favorite was the 'cinnamon roll'!
We grabbed breakfast here one dreary morning and loved it! Their pastries were delicious & Tyler's omelet was MASSIVE.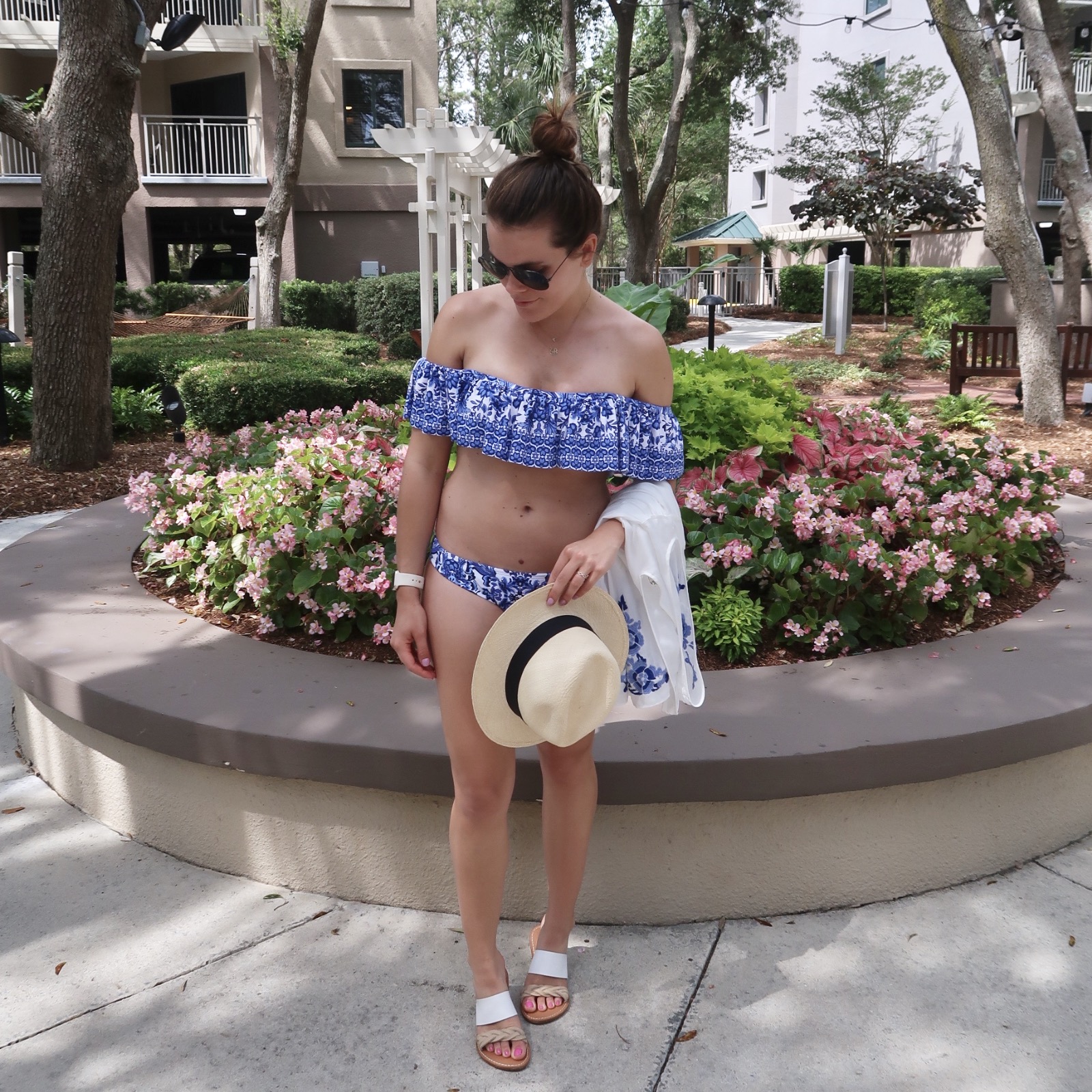 Sunnies / Bikini Top / Bikini Bottom / Cover Up / Hat / Sandals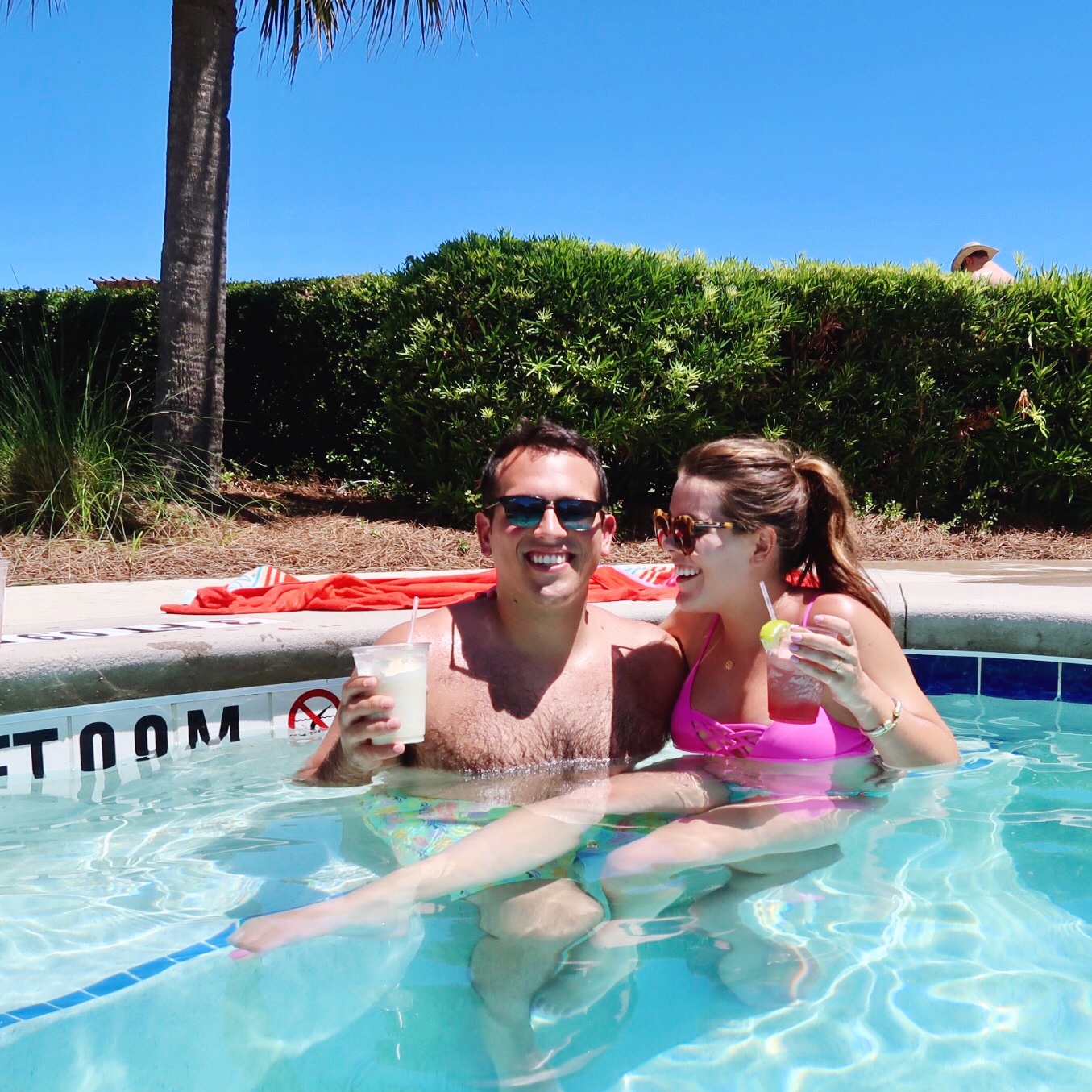 Bikini Top / Bottoms / Sunnies
Where to Play:
Rent Bikes!
This is one of my favorite things to do in Hilton Head! Sadly the crummy weather we had prevented us from doing it this year, and we were so bummed. Last year we rented them and rode all through Sea Pines. It's the perfect spot to ride through. You can check out all of the pretty homes, stop and grab a snack in Harbor Town Bakery & Cafe or keep of riding to The Salty Dog for a cocktail! Stop and see the lighthouse while you're at it.
Frosty Frog
Okay, these next two spots are our two favorite places to grab a drink on the island. You can never go wrong with a Frosty Frog!
Hands down the prettiest spot to grab a drink & watch the sunset. We've never eaten here, so we can't vouch for the food, but we always make sure to make a trip to watch the sunset from their Ocean Lounge!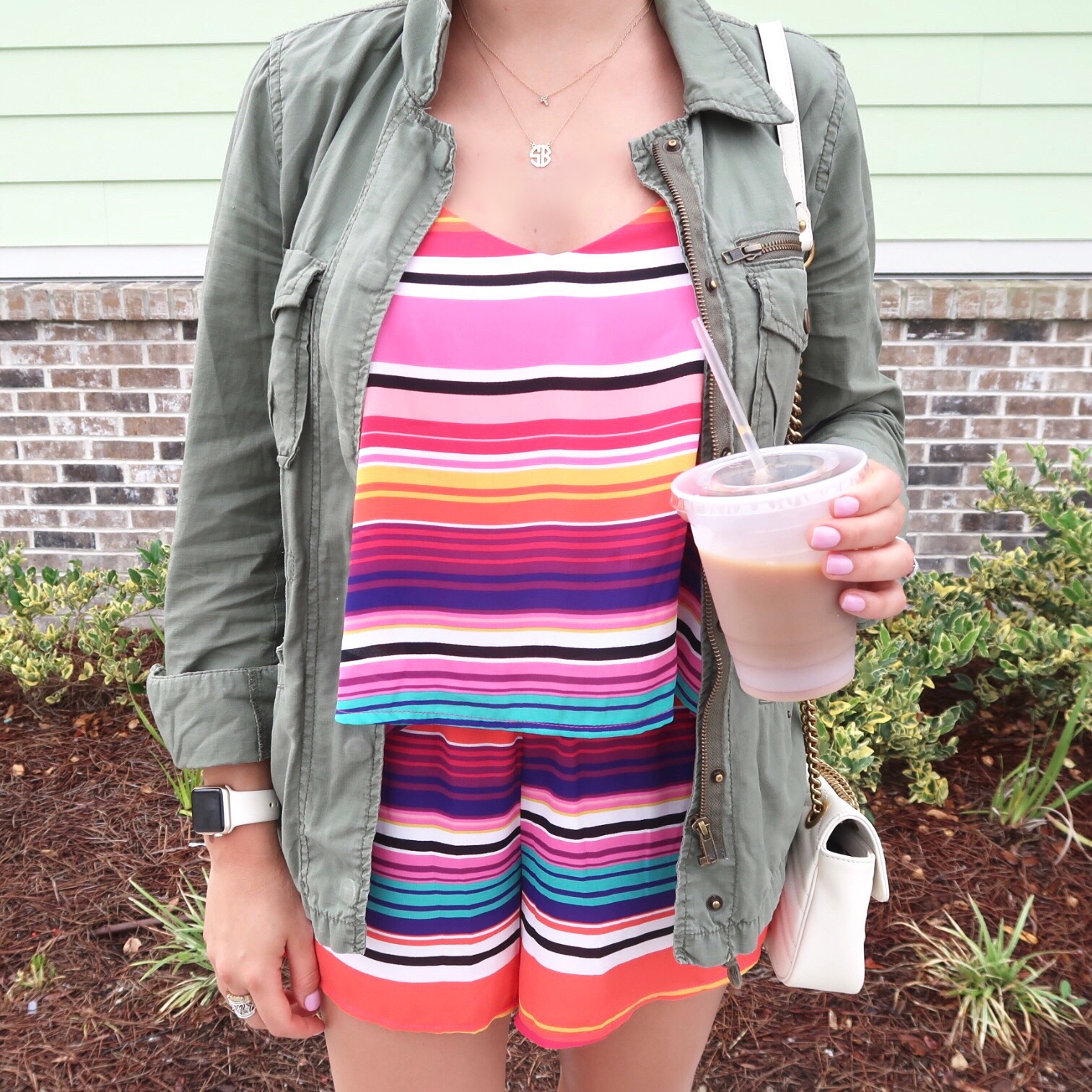 Stripe Romper / similar Jacket / Gucci Crossbody / Monogram Necklace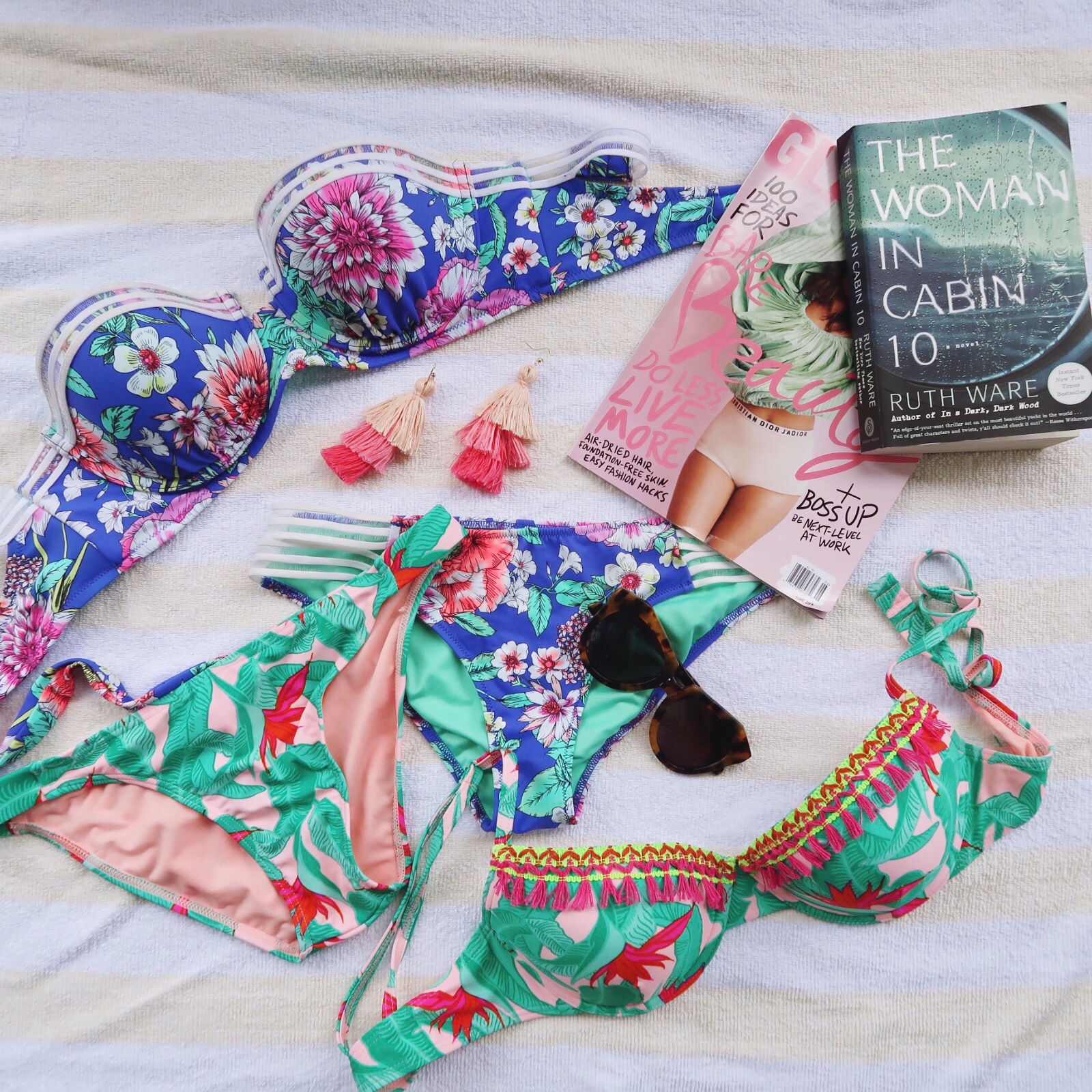 Blue Bikini Bottom / Blue Bikini Top / Sunnies / similar Earrings / Green & Pink Bikini Top / Green & Pink Bikini Bottoms / The Woman in Cabin 10
Where to Shop:
I'll be honest y'all, the shopping in Hilton Head isn't the best, but it's not bad! Here are a few of our go to spots–
Shelter Cove Towne Center
Tanger Outlets
Coligny Plaza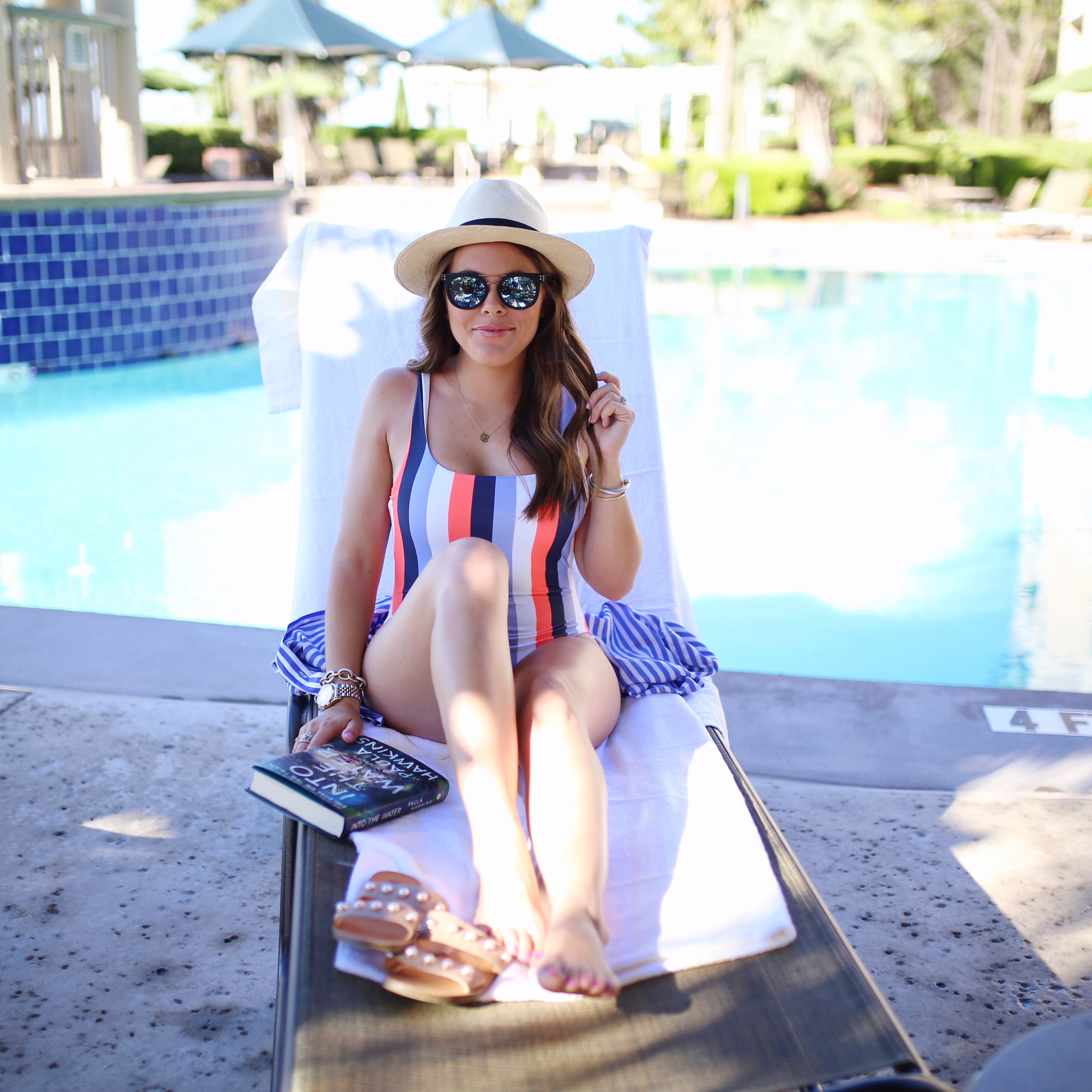 similar Stripe One Piece / Sandals / Hat / Sunnies / Into the Water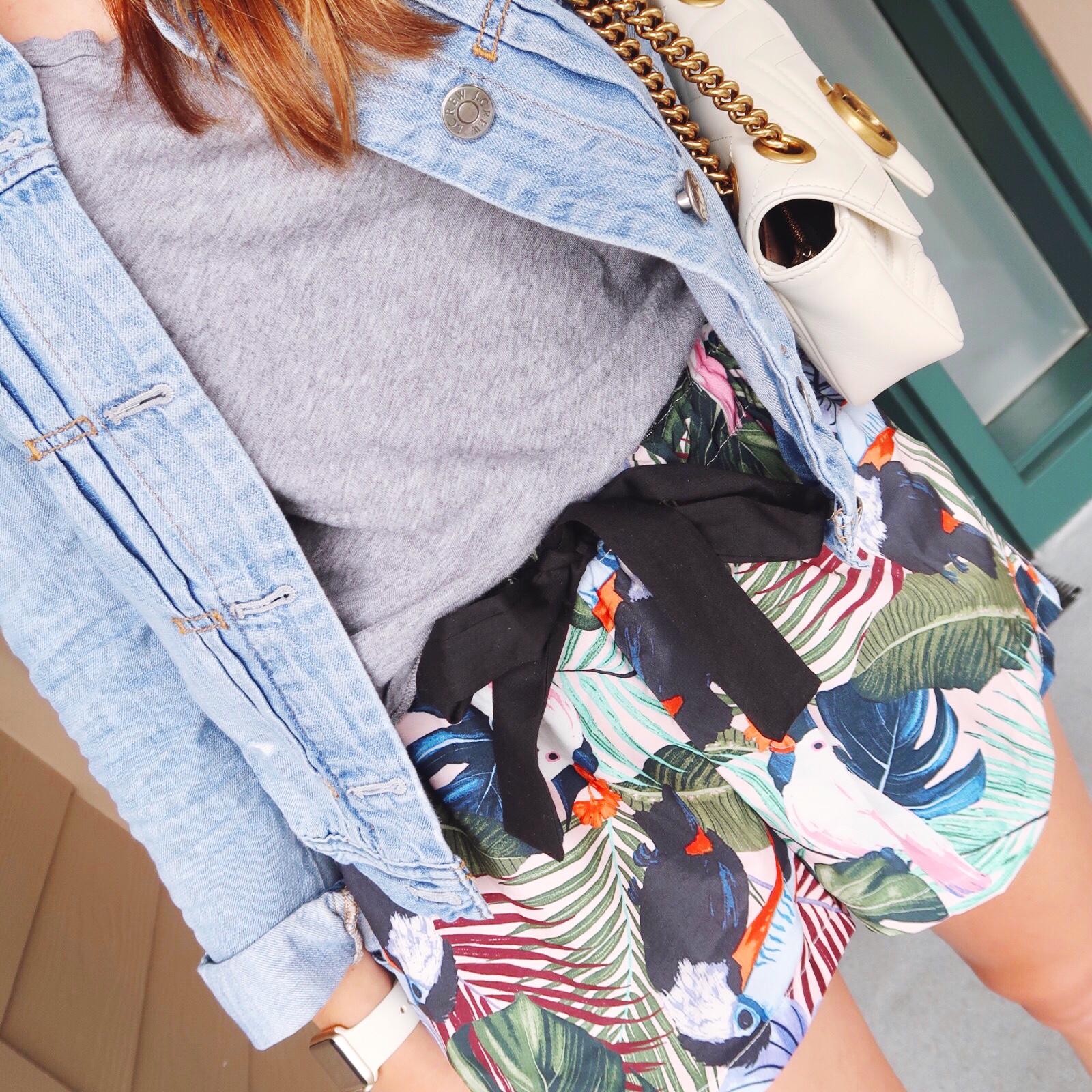 similar Denim Jacket / Grey Tee / Printed Shorts / Gucci Marmont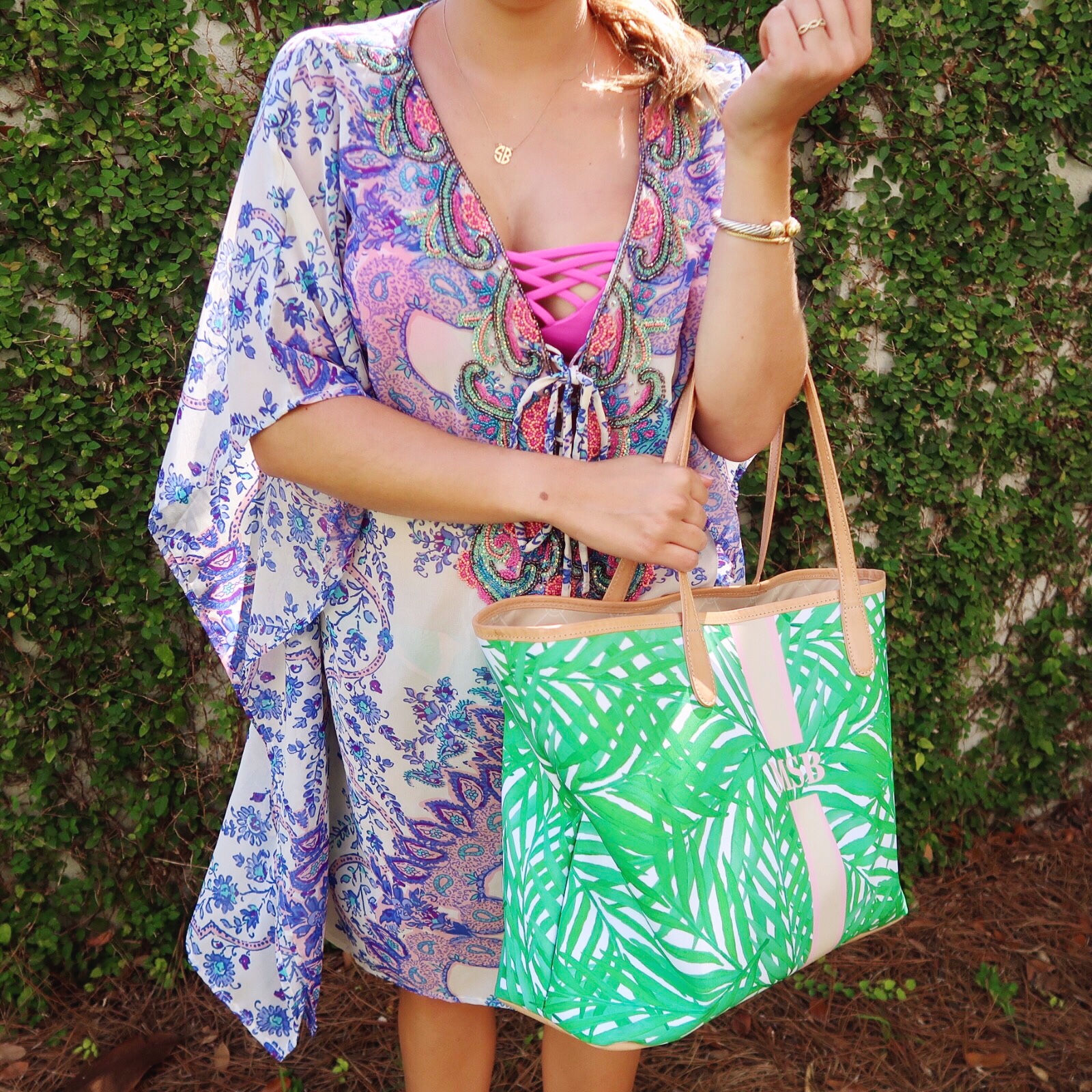 Bikini Top / Cover Up / Bag c/o / Monogram Necklace