Who doesn't love putting together a Christmas list?! I'm sharing 21 items I am dying to receive under the tree this year.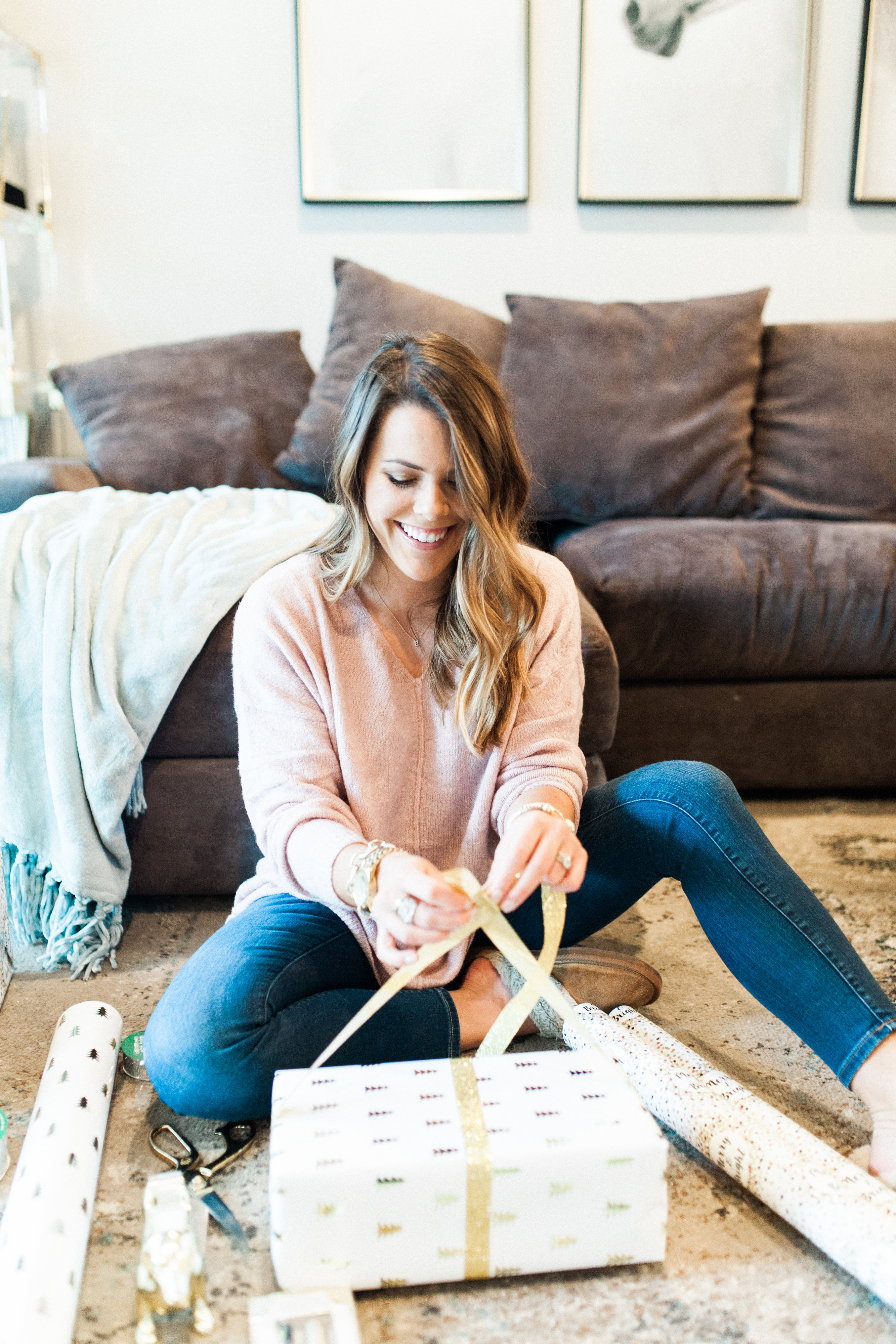 Happy Wednesday y'all! Okay, so I am officially deeming this GIFT GUIDE WEEK! I hadn't originally planned on sharing all of my gift guides this week, but Christmas is quickly approaching and in efforts to not wait until the last minute to complete my own Christmas shopping I thought I would get them up for y'all asap!
And I'm throwing my own Christmas list in the mix for good measure 😊 This is a 'if budget wasn't as issue' kind of Christmas list y'all, but I'm also including some budget friendly buys too! Keep reading to see what I'm dying for this year and make sure to check out my other Gift Guides as well!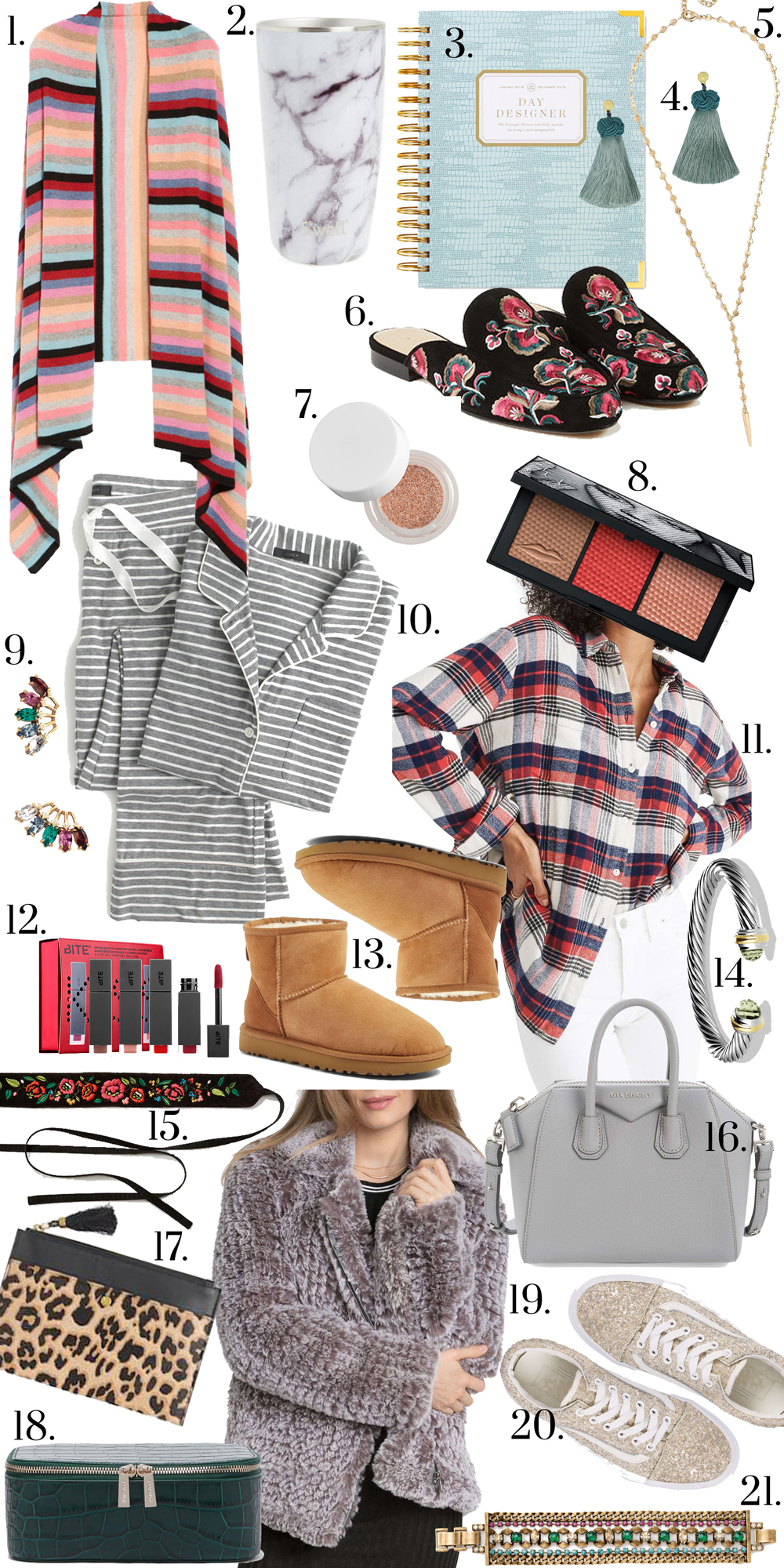 Striped Wrap: Okay, so $350 for a wrap is ridiculous, I know. I'm just so in love with these colors & stripes! It would be so fun to dress up or down, and who doesn't love some cashmere?!

Marble Coffee Mug: This travel mug is would make my morning coffee so much cuter! I love this mug so much I included it in this set of gift guides as well!
Day Designer Planner: This planner is the best planner EVER! I actually ordered one already but I didn't realize it was for July 17 – June 18, so this cute one for 2018 is going on my Christmas list!
Hart Hagerty Tassel Earrings: I would add this earring in every color to my wish list. I had the opportunity to meet Hart during my trip to Charleston last weekend, and her pieces are just gorgeous! They're lightweight & so fun for day or night.
Dainty Gold Necklace: This layering necklace needs to be mine asap. I love a good statement piece, but sometimes dainty layers is such a nice change of pace.
Embroidered Mules: I can't get enough of the mule trend right now, and these embroidered slides are just too pretty to pass up! They could definitely carry you into spring too.
Natasha Denona Top Coat: After seeing one of my youtube gals rave about this eye product I immediately added it to my Christmas list. It comes in 4 shades, and it under $30.
NARS Palette: All your bronzer & blush needs in one palette. I typically steer clear of these limited edition palettes because the quality never seems to be the same, but after swatching this one I was so impressed!
Ear Jackets: How fun are these little earrings?! I am in love with all of the Rebecca Minkoff x Stella & Dot pieces really, but I don't have any studs like these so on the Christmas list they go!
Stripe PJs: I am on the hunt for a nicer pair of pjs that are super soft, and these seem like the perfect comfy pair.
Plaid Shirt: I love, love, love a good plaid shirt! These colors are so fun for winter, and it would look so cute under a leather jacket.
Bite Beauty Lip Set: I love Bite Beauty lip products, but have yet to try their liquid formula. This little set is an easy way to try the formula in a few different colors.
Mini Ugg Boots: My current pair have seen a lot of love, and are starting to wear down, so I am dying for a replacement pair this season.
David Yurman Bracelet: I mean you can never go wrong with David Yurman, can you?! This prasiolite stone is so pretty & is neutral enough to wear everyday.
Embroidered Belt: How fun is this belt?!
Givenchy Mini Antigona Handbag: I am on the hunt for a grey handbag because the color goes with just about anything. This style is small enough to wear traveling, errands, weekends, etc, but big enough to carry all the essentials!
Leopard Pouch: Y'all know I can't resist the leopard print. This little pouch would make the cutest catch all pouch to carry in a bigger tote.
Makeup Case: My makeup cases are about done for, so I am on the hunt for one that will fit all of my essentials & hold up well through travel.
Faux Fur Jacket: I am so in love with this jacket! I spotted it while shopping in Chicago, and was dying to pull the trigger. Tyler reminded me that Christmas is coming, so I took that as a hint to add it to my Christmas list instead 😉
Glitter Sneakers: I mean, how fun are these?! I don't have any vans sneakers, but I hear they're super comfy & the glitter sold me.

Layered Bracelet: Another Rebecca Minkoff x Stella & Dot piece that I love so much. I love the mix of chains & stones.
And that's a wrap! What's on your Christmas list this year?!